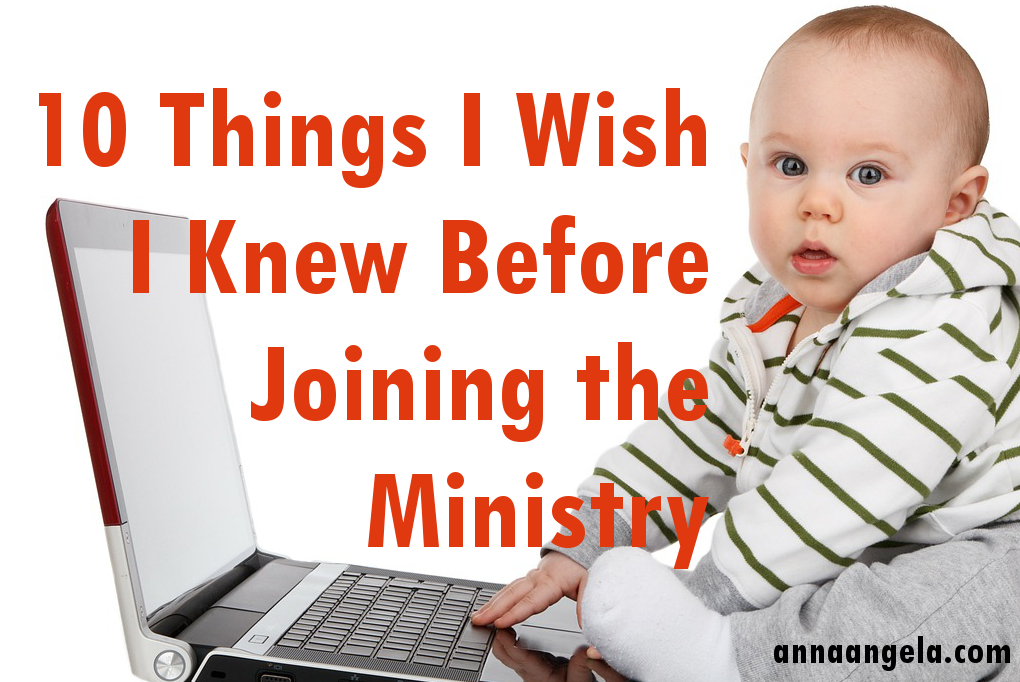 I believe that we all have a ministry. It's whatever God called us to do (may it be at home, work, a charity, online, etc). I also believe that a sign of spiritual growth is getting involved in a ministry at your church or faith community (Ephesians 4:11-16).
One of my goals in moving forward in this blog is to write about ministry leadership every Tuesday to encourage and challenge you to excellence in your ministry. I want to start that off with 10 Things I Wish I Knew Before Joining the Ministry (Part 1).
1. I come first.
Airplane safety instructions always tell you to put your oxygen mask on before helping your child put his/her mask on. We cannot help other people if we're incapacitated. It's the same with the ministry. My overall health – spiritual, physical, emotional, and mental health – comes first. And among all those, my spiritual health is most important.
Our relationship with God should never take a back seat to anything, not even the ministry. And if any part of our health suffers, the ministry suffers because we're unable to give our best.
We need to stay healthy. Look, I'm overweight (for my age and height, I'm overweight) and I dislike exercise. I was obese when I had depression. I suffered from muscle spasms for years. I have asthma, mild scoliosis, and allergies. I haven't been to the doctor in years because I didn't have health insurance.
I'm telling you this to show you that I am not, in any way, a health nut. I can't give you much advice on being healthy, but I am trying. I lost weight (yay!) by making small changes to my lifestyle. I drink 3 liters of water a day. I hardly drink soda (hardly). I started doing Zumba (by that I mean I've attended 2 classes and did it at home once). And I listen to my body for signs of stress, and do something to keep it and depression away.
People like to say that the ministry is about God and others. But if you don't put yourself first – your relationship with God and your health – you're no good to anyone. You can end up harming yourself and others. Think about it this way. The greatest commandment is to love God. The second is to love others as you love yourself. You can't love others if you don't love yourself, and part of loving yourself is taking care of yourself.
2. Ministry is mostly prayer.
Actually, I knew this. I heard it often enough, but I wish I acted on the knowledge more often. Our source of everything is God. He supplies everything we need to do what He called us to do. Strength. Wisdom. Knowledge. Patience. Even the right people and the right opportunities. Prayer keeps us connected to our Supplier and we need Him.
It doesn't end with us though. The ministry team needs to pray together. Make it a priority to pray together before events begin. Make time to pray – really pray – during meetings. Jesus said, "Again, truly I tell you that if two of you on earth agree about anything they ask for, it will be done for them by my Father in heaven. For where two or three gather in my name, there am I with them" Matthew 18:19-20 (NIV). Can you imagine what we can accomplish in the ministry if we take Jesus up on what He said?
3. Find a mentor.
Being in the ministry is hard. It takes up external (physical) and internal (emotional, mental, spiritual) strength. A mentor is someone with experience whom you can trust.
For those moments when you feel twisted, wrung out, and want to give up, you need someone to turn to. For those moments when you're so angry with your staff or volunteers or the people you serve, you need someone to turn to. For those moments when you feel lost and confused. For those moments you want to celebrate. You need someone to turn to.
And this someone doesn't always fall into your lap. Sometimes you've got to find him/her. Look for that person that can speak truth into your life. Truth: the truth you've forgotten that will uplift you, and the truth you're sometimes blind to that will discipline you. We need people who can give us that truth to help us through tough times, to help us grow, and to cheer with us.
These are just the first 3 of 10. Read Part 2!