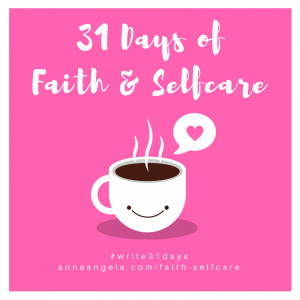 I'm finally writing the wrap up for this year's 31 days series. It's more than a few days late, but in October, I took my own advice for selfcare. I didn't stress about the series when priorities shifted around, took time for myself, and everything eventually worked out.
What I most want to say about faith and selfcare is how important it is to take care of our overall health: physically, mentally, emotionally, and spiritually. There's nothing wrong with putting our own well-being first. It enables us to help and care for others. But more than that, God cares about us and our well-being. While He is there to lift us out of our troubles, He wants us to live for today instead of living for the worry of tomorrow. Practicing selfcare is part of living out our faith.
I found that how I practice selfcare rotates in phases or seasons. That's a good thing! Don't get stuck with a few ways to practice selfcare. Let it flow naturally from the season you're in. For example, there may be a season where it makes sense for you to travel. Or another season where it's relaxing for you to do your own nails. Maybe, in the summer, you like watching movies in the theaters because it's cooler. While in the winter, you'd rather cozy up with a good book in front of the fireplace.
Pursue selfcare, but don't force it. Like exercise is a form of selfcare, but you don't have to go to the gym if that won't work for you. Dance. Walk. Try Yoga or Pilates. Take a Badminton class at the local community college, or self-defense classes at the community center. Do what works for the season you're in.
To wrap this series up, here are ten of my own favorite ways to practice selfcare:
Travel
Watch movies or musicals
Read fiction, preferably under a cozy blanket, in front of a fire or scented candle, with a cup of coffee/hot cocoa
Dance
Color or paint with coloring books for adults
Give myself a manicure with a fun nail design
Knit and make crafts
Girls Night In with my friends
Walking around a store (most likely Target or Michael's)
Exploring different ways to spend time with God (like sitting outdoors, Bible journaling)
What are your favorite ways to practice selfcare?