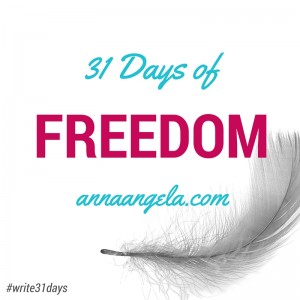 Welcome to 31 Days of Freedom! I'm joining writers across the world at Write 31 Days, a writing challenge created by the Nester, that happens every October. This year, Crystal Stine is at the helms and I'm writing about Freedom.
Freedom is also my One Word for 2015, and I didn't pick this topic for the Write 31 Days Challenge because I've been writing about it throughout the year. Actually, I've only written a few posts on it, so this month I'm flushing it out. I know God has been teaching me a lot about freedom and I hope He continues to teach me until December and even beyond.
This is the landing page for 31 Days of Freedom. Below are the posts in this series. I will update the links as daily as I could. You can always find the most recent post by going to my homepage, and you can always go back to this page to see all the posts. Follow along with other 31 dayers across social media with #write31days.
On to the posts!
Day 1: Why Freedom?
Day 2: Weekend Fun & the Freedom of Free Time
Day 3: How to Have Freedom of Time
Day 4: The Fight for Freedom
Day 5: Freedom is Not Escape
Day 6: Freedom Starts Here
Day 7: Freedom and Bad Things
Day 8: Freedom in Community
Day 9: Weekend Fun & The Freedom in Self Care
Day 10: The Freedom in Stepping Back
Day 11: Freedom in a Thank You
Day 12: Freedom in Simple Pleasures
Day 13: The Freedom in Looking Up
Day 14: Freedom in the Milestones
Day 15: Freedom in Change
Day 16: Weekend Fun & Freedom in Learning
Day 17: The Freedom in Free Learning
Day 18: Freedom in Work
Day 19: The Freedom in Purpose
Day 20: Freedom in Christ Alone
Day 21: Freedom From Fear
Day 22: The Freedom in New Wineskin
Day 23: Weekend Fun & Freedom to Inspire
Day 24: Freedom to Volunteer
Day 25: Freedom You Already Have
Day 26: Freedom in Peace
Day 27: The Freedom in Owning Your Faith
Day 28: Freedom in the Pain
Day 29: The Freedom in the Mirror
Day 30: Weekend and Freedom Fun
Day 31: A Look Back At Freedom