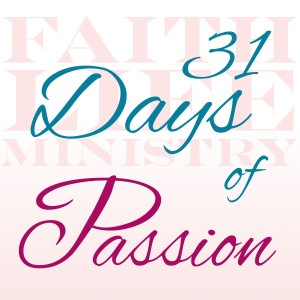 Passion. In faith, life, and the ministry.
This is the first year I'm joining The Nester's 31 Days writing challenge. I'm excited and apprehensive because there's a lot going on this month for me, and 31 things on one topic is a lot to say.
I decided to write on 31 Days of Passion because there was a day when I decided that passion was an enemy. It makes you give of yourself to others. It makes you sacrifice time, energy, money, sweat, blood, tears, etc. It's a fire, and fire consumes. And you think it's all good and great until you get burned.
But being without passion is worse, as I found out the hard way. And I also found out that passion can translate in different ways. I want to chronicle what I went through in hopes of encouraging someone else. So here goes.
October 2013
Passion In Faith
1. Giving Up Passion
2. My Salvation Story
3. Never Alone
4. The Prodigal's Road Home
5. Owning Your Faith
6. The Passion of Jesus
7. Quiet Passion: the Word
8. Quiet Passion: Prayer
9. Quiet Passion: Worship
10. A Different Relationship
Passion In Life
11. Introvert Jesus
12. What is Big?
13. My Purpose
14. Let Go of Fear
15. The Best Gift
16. Single and Not Dating
17. Fearfully and Wonderfully Made
18. Modesty, Makeup, and Fashion Sense
19. Connecting With Love
20. Wanderlust
Passion In Ministry
21. Ministry: One Body, Many Parts
22. God Can Use You
23. That's Not Jesus!
24. Spiritual Gifts, Skills, and Talents
25. Out of the Box
26. Giving Due Diligence
27. Volunteer Appreciation Gifts on a Budget
28. In the Spotlight
29. Preventing Burnout
30. The Ministry Taught Me