It's that time of year again! It's time for Write 31 Days, where we take on the challenge to write daily. This year, I'm doing it a little differently. I will do 31 Days of Vlogging. Since it is Write 31 Days, I will mix vlogging and blogging. My goal is to write on the weekends and vlog on the weekdays.
If you didn't know, a vlog is a video log. I will post my vlogs on my YouTube channel, but will post a link to it on this post. This post is my landing page, which is like a Table of Contents. From here, you can jump around to different posts or vlogs. Let's do this!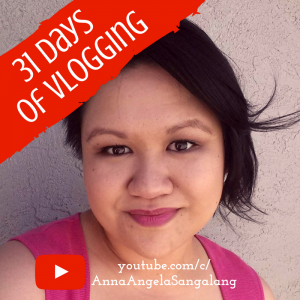 Days
1 Post: A Look Back at September & Nashville
2 Vlog: 3 Quick & Easy Ways to Practice Self Care
4 Vlog: The Question I Ask To Avoid Regrets
5 Vlog: Super Easy Chalkboard Sign Craft
6 Vlog: Friday Funday & Saying No
7 Post: English, Books, and My Reading Life
8 Post: Hope, It's a Persistent Thing
9 Vlog: What Balance Looks Like in My Life
10 Vlog: 3 Things I Learned in Kidmin Nation Mega Con
11 Vlog: Happy International Day of the Girl!
12 Missed! Oh well 🙂
13 Vlog: Friday Funday & Gas Station Food
15 Missed! Oh well 🙂 Enjoy your Sunday!
16 Vlog: A Fear I Would Overcome if Given the Opportunity
17 Vlog: My Inspiration Wall & An Awesome Find from the Dollar Tree
18 Vlog: How to Forgive & Forget
19 Vlog: Happy Evaluate Your Life Day!
20 Vlog: Friday Funday & Operation Christmas Child
21 Post: My Dream Job & A Fork in the Road
22 Post: If Money Didn't Matter
23 Vlog: Dollar Tree Haul for Operation Christmas Child
24 Vlog: Dispatch Box Unboxing & First Impressions
25 Vlog: 1 Thing I'm Grateful for Today
26 Vlog: Will God Give You More Than You Can Handle?
27
28
29
30
31