As the temperature rose past 90 degrees F, I thought of eating lunch out. Get some fresh air. Take a break and read Emily P. Freeman's "Simply Tuesday" before heading back home to work till after the sun goes down at 8:32pm. Night owl here.
Then things didn't work out. Isn't that how it always is when you've got your plans laid out? It's not just me, right? Something goes wrong and something is determined to make you a little bit worse for wear.
But I remember this. Isaiah 61:1-3 (NIV, emphasis added).
The Spirit of the Sovereign Lord is on me, because the Lord has anointed me to proclaim good news to the poor. He has sent me to bind up the brokenhearted, to proclaim freedom for the captives and release from darkness for the prisoners, to proclaim the year of the Lord's favor and the day of vengeance of our God, to comfort all who mourn, and provide for those who grieve in Zion—to bestow on them a crown of beauty instead of ashes, the oil of joy instead of mourning, and a garment of praise instead of a spirit of despair. They will be called oaks of righteousness, a planting of the Lord for the display of his splendor.
I've always heard it said that God makes beauty from your ashes, like a phoenix reborn. And though God does make something beautiful from our ashes (our messes), I think we're missing something here if we only see these verses that way.
When the Israelites mourned, they ripped their clothes, wore sackcloths, put ashes on their heads, and cried out loud to the Lord.
Before you think that was then and not now, think of what we do when we mourn or when bad things happen. We cry out to God, too. We may become foul-mouthed. We may slip on our sunglasses to tell the world we don't feel like talking, or slip into sweats because it reflects our mood.
But God does not leave us in our state of mourning. He bestows or gives us a crown of beauty, the oil of joy, and a garment of praise. The ashes, the mourning, and the despair may still be there, but here comes God with the good things.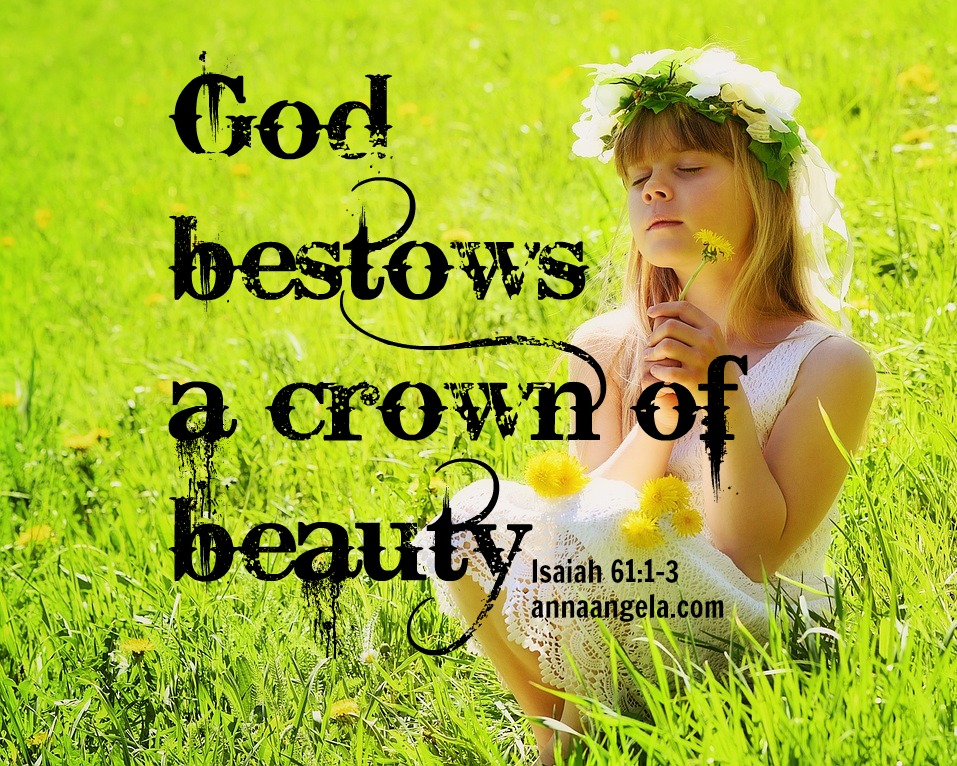 The bad things may still be happening, but God is there with freedom, with favor, and with comfort.
We may have ashes on our heads, but God gives us a crown of beauty. We may be in mourning, but God gives us joy. We may still be wearing despair, but God gives a garment of praise.
It's not like a phoenix at all. God doesn't wait for us to get burned up completely. He's with us, right now, offering us an alternative. We need to take it.
We can brush off the ashes, leave the mourning, and take off the despair. I'm not saying it's easy, but God is with us. God is with you in the midst of the bad stuff. He is with you when it's hard.
The store skipped over or didn't see my order, and I was waiting for at least 20 minutes. They refunded me and I got free lunch. There were a lot of construction on the road so I took a detour and ended up stopping to get a drink that I surprisingly enjoyed. And surprise! The latest issue of Kidzmatter magazine arrived in the mail today and I'm quoted in it.
When the day threatened to push my patience and I was beginning to think I should never have left the house, God showed up offering me a bunch of good things. Here, a free lunch. Here, enjoy this drink. Here, your words matter.
If you're having one of those days, pause for minute. God is bestowing a crown of beauty on your head. He pouring oil of joy on your spirit, and draping a garment of praise upon your shoulder.
Pause for a minute. God is with you in the midst of it all.