"If the entire Israelite community sins by violating one of the Lord 's commands, but the people don't realize it, they are still guilty" Leviticus 4:13.
But if we sin and don't realize it, we are still forgiven. With Jesus as our Savior, we don't need to wait on ceremony; only have repentant hearts.
I'm reading Leviticus as part of a Bible plan. I mention that because I've read this book before. Truth is, I wouldn't re-read Leviticus if it wasn't part of a plan because my eyes tend to glaze over and I wish I knew how to speed read.
Leviticus outlines in specific detail what the people of Israel has to do for certain ceremonies. What to do for sin offerings, peace offerings, cleansing offerings, etc. How to build this, where to place that, which fat to cut off the internal organs of bulls or cattle before sacrificing them.
It's just oh so specific. And boring. And mundane. Like ugh.
But necessary. For them. The Israelites of the days of Moses. The ones who lived before Jesus' work on the cross.
And that's the difference. That's what we take for granted sometimes. Without Jesus, we'd take Leviticus much more seriously. If, you know, God made a way for Gentiles to be included among His people. We'd need to know exactly what we need to do to get back in God's good graces. Nobody will be exempt. Not even the high priest.
"If the high priest sins, bringing guilt upon the entire community, he must give a sin offering for the sin he has committed. He must present to the Lord a young bull with no defects" Leviticus 4:3.
The high priest is still human and a sinner. Can you imagine? An Israelite is living blameless, but the high priest sins. Now that  Israelite is no longer blameless. He's guilty because of somebody else's sin! And he wouldn't even know about it. Talk about unfair.
But we don't have to worry about that because of Jesus.
"So then, since we have a great High Priest who has entered heaven, Jesus the Son of God, let us hold firmly to what we believe. This High Priest of ours understands our weaknesses, for he faced all of the same testings we do, yet he did not sin. So let us come boldly to the throne of our gracious God. There we will receive his mercy, and we will find grace to help us when we need it most" Hebrews 4:14-16.
We are no longer bound by ceremony. Our standing with God doesn't hinge on somebody else's action. They hinge on ours, on whether we repent and accept Jesus as our Savior. When we do, we are forgiven. Imperfect, but forgiven. Still a sinner, but forgiven and given mercy and grace.
We can have an off day filled with hurts, fears, worries, and doubts. We can rage at God, or wail a bunch of "Why Lords." We can fall short (and we won't fail to fall short, not as long as we're human). But we can also boldly go to God. Without fear of recrimination. Without being turned away. Because Jesus made the way.
That's so freeing! Not that we're free to simply live in sin. Where's the repentance in that? But it's freeing to have a God to turn to. Boldly go to. Run to. Bury our faces in His shirt to. And listen to as He tells us, "It's okay. I've got you. I know you messed up. Don't worry. I forgive you. You're back in my arms. You will be okay."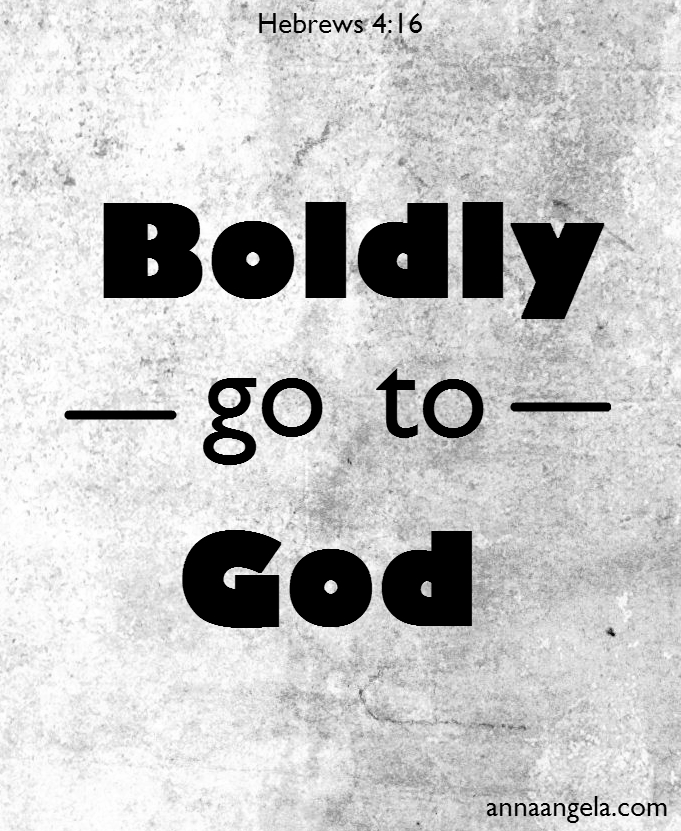 Linking up today with Coffee for Your Heart, Word Filled Wednesday, and Winsome Wednesday.