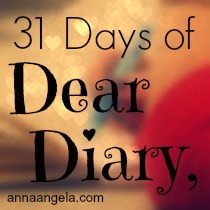 January 7, 1995
Saturday
Dear Diary,
We were going to Navotas for facation. We borrowed the Pick-up bec. we will bring many things. Terrible! We had trouble w/ the Pick-up, it didn't start. This is why. I had sinok, Mom & Dad found a Burger Machine & bought a coke for me. My sisters also bought. When papa started the Pick-up it won't work! A man came & fixed it up. It started on the fifth time. As a reward, we gave him ₱50.00 & ask for ₱100.00, so it became ₱150.00 (it for pamasahe so he can go home)! (We prayed to God, of course & give thanks) After some hours we had an over heat! Papa, got some water & do what he should do. (We're in Luck to! We had the over heat in front of a Gas Station) Now I'm here (at Navotas) & my family safe & sound.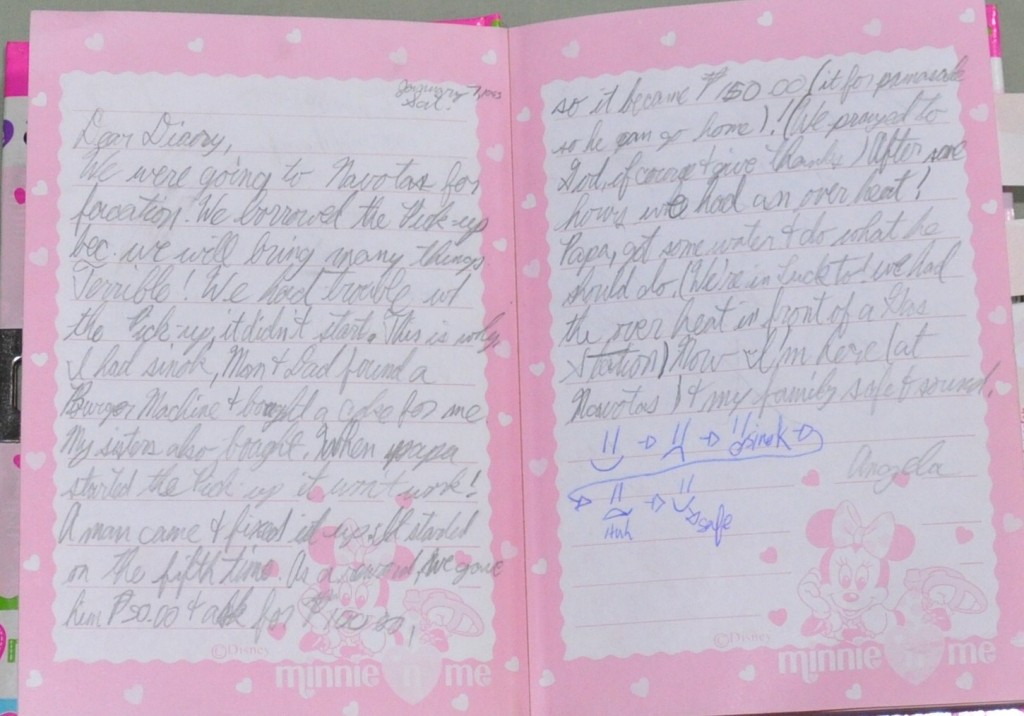 ---
This is the 4th entry in my first diary. I was 10 years old and I received a Minnie Mouse diary with a lock and key for Christmas. I still lived in the Philippines, and you can clearly see some misspellings, grammatical errors, and incomplete sentences ("facation" for vacation, "to" for too, random capitalization). I tried 🙂 Some Tagalog words went in there. Sinok means hiccups. Pamasahe means fare, as in the man needed fare to pay for his way home. And this is a Burger Machine:
What surprised me was that I mentioned God. At 10 years old, I would have been attending a Christian church with my Mom and two sisters, but I didn't have a relationship with Jesus. I was born and baptized a Catholic and was a Catholic school girl. God has always been in some part of my life. My college professor would have said that I'm predisposed to believe in God. That doesn't mean it's a guarantee I would have stayed in the faith or become a Christian.
Someone somewhere prayed. And someone brought my aunt to Christ. She brought my mom to Christ. She brought my sisters. And those three brought me. Eventually, my dad was saved. My brother born and raised in a Christian home (and was saved when he was old enough to decide for himself). My maternal grandmother was saved. Then my maternal grandfather. And then most of my mom's side of the family (who are still mostly in the Philippines).
Because someone somewhere prayed and dared to share Jesus to my aunt.
I want to be that someone somewhere who prayed and dared to share Jesus. But I'm horrible at evangelism. I don't like crowds. I'm hardly social. It takes a while for me to open up to people and truly let them in. The Great Commission used to give me shivers. Used to.
Someone recently reminded me that sometimes God calls us bloggers to write about something crazy or seemingly trivial, but that crazy post will be the words that someone out there needs and understands.
We may never know how our crazy or trivial has impacted someone else, and we don't really need to know as long as we're obeying God. As long as we're doing what He has called us to do, and doing it how He created us to be.
I can be that someone somewhere who prayed and dared to share Jesus through a platform God gave me. This blog. My writing. It doesn't mean I stop sharing Jesus to people face to face. It means, this right here is a purpose God created me for and I can't ignore it.
God created you for a purpose. Only you can fulfill that purpose. So don't be like everyone else.