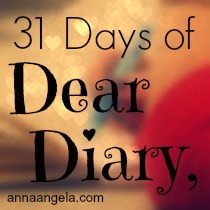 -Transcript-
October 22, 2010
Dear FutureMe,
I'm so tired it's not funny. I'm going to need another extension for my writing. Tatay's gonna be in the hospital until Monday. He might have prostate cancer, on top of his lung cancer. He's got a cathater placed in. His feet are oddly bloated. They look weird. It makes me sad and want to run away from it all. I don't think I'm cut out for fighting. Hah, don't think? I know I don't like confrontation. Inside I want to have an inner spy, but I think I'm really the girl flashing a peace sign and asking, "Can't we all just get along?"
I'm tired, especially because I didn't get much sleep in the hospital. The other man in the room had the tv on all night long, with the volume so loud I understood every word. So annoying.
I don't want to face life.
-End Transcript-
*FutureMe.org is a website where you can write emails and send it at least 1 year into the future. I use it to write to myself like a diary, but I get to read what I wrote a year later.
My grandfather (we called him Tatay, the Tagalog word for father) was sick for a long while before he passed away to be with our Lord. He beat cancer, but then other illnesses happened. I don't know how caregivers do what they do. I couldn't handle it. It frustrated me that complications came right on top of each other, like there's no light at the end of the tunnel. I couldn't handle the waiting. The waiting was the worst. Waiting in hospitals. Waiting for tests. Waiting for test results. Waiting for a diagnosis. Waiting for a treatment plan. Waiting for the medicine to work. Just waiting. All the time. It was like life was at a standstill. And I didn't like that.
I kept thinking about that medical dilemma on whether or not to keep a person on life support. And I never knew what I would want if that were to happen to me. But now I do. I wouldn't want to be kept on life support.
Looking back through my life through this #write31days challenge, I felt the most hopeless, helpless, confused, and frustrated when I felt like my life was going nowhere. When I felt like my life was at a standstill. When I felt stuck.
I love living life. I love getting involved and experiencing the richness of life. Traveling and discovering new cultures. Learning new things. Creating things with my hands. Making a difference in other people's lives. Being in the moment.
I love God. I believe in His power to heal, to complete, to do miracles. If I were in a state of medical limbo, I believe God can heal me. And I would thank everyone who loves me, would keep me in prayers, and would engage their faith to believe for my recovery. I understand wanting to hold on. I understand that we all still have much to live for, and "pulling the plug" seem like cutting a life short.
But I would want to move on. I would not want to be in a standstill, stuck and going nowhere. To let me go means to let God have control over my life. He will make me whole, either on this planet or in heaven. Either I live on earth or live in heaven. For me, it's okay to let go.
I don't say this lightly. It makes me cry to think of life cut short. I think there's more for me to do. There's more I want to experience. Unlike other Christians, I don't want Jesus to come yet. I don't want to go to heaven yet. It's not fair. I haven't even been kissed. So hold on. Let's not end the story just yet.
But if this story brings us to a chapter where I'm on life support, don't stop reading the book. Don't suspend me in waiting. Let me go. If I end up living life on earth or enjoying eternity in heaven, I'm okay with it.