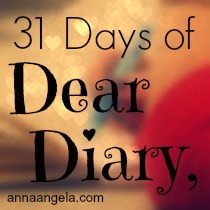 – Transcript –
April 25, 1996
Dear Diary,
USA! It's a long time and I'm busy writing letters too. It's neat to ride an airplane. But I don't like take offs.
So, this Tues, school time, *School is our school. 2 months only! Under Observation. Titingnan kung pwede kami sa higher grade at it's bec. of age too. Para ka age namin ang aming classmates.
[Translation: They will see if we're able to handle/keep up at a higher grade and it's because of age too. So that we're the same age as our classmates.]
July 25, 1996
Dear Diary,
Hi! It's been a long time. USA is nice but I like P. And I miss Nanay! I write letters.
[Note: "P" means Philippines. "Nanay" means mother, which is what I call my maternal grandmother.]
-End Transcript –
I awoke with a start in a darkened airplane. Hardly anyone moved. Most of the passengers slept. A few did what they can to find comfort in the 15 hour flight. I raised the window shade for the umpteenth time. There was something spectacular about being above it all, even if all I had been able to see was darkness. But this time was different. I leaned my head against the window and saw the edge of the Earth. The seamless curve illuminated by a halo of white light. Sunrise from a bird's eye view. Dawn for an entire continent. A welcome sign for my new life.
If only every change was ushered in this way, with a heavenly sign giving us the go-signal and telling us everything is going to be okay. That would be something, wouldn't it? Every doubt would be put to rest. Every naysayer would be silenced. Everyone would know that we're doing the right thing. We'd be called pioneers instead of crazy.
We don't always have a sign. Sometimes we barely have a map. Some changes feel like that, like we're being taken for a ride to who knows where. Others are harder choices we have to make. Change can be exciting. It can be sad. It's not always beautiful. Sometimes it's downright gritty, muddy, and messy.
But we have the Word of God.
"Trust in the Lord with all your heart; do not depend on your own understanding. Seek his will in all you do, and he will show you which path to take." Proverbs 3:5-6 (NLT)
I love that. We may not always have a sign, or a map, or a clue. But we always have a Guide. He personally shows us where to go.
*School: Keeping the school's name private