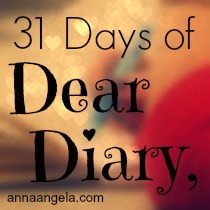 Read here on why I'm sharing an unedited poem every Saturday and Sunday for this #write31days challenge 🙂
10/29/02
How I Love You
I Lay my head on Your shoulder,
And looked at Your arms around me.
I saw Your scars of love,
And the ache of my heart thumped.
Tears start to flow,
As shame stars to build.
I cannot understand,
How You loved me from the start,
Knowing the painful lashes,
I'll print on Your back.
I stagger and I fall,
As I walk Your Holy Path.
And I know I'll never match
The distance Your love walked.
My faith falls and rises,
But You the Rock stay strong.
You keep calling to me
Even when I gamble for Your robe.
I'm not worth Your love,
But You won't let me go.
Get away from me, my Christ,
'Cause I will just stain You.
You're unfailing love
I don't deserve
So my life I offer to You
Oh, Jesus my Jesus
How I love You
-Angela Sangalang