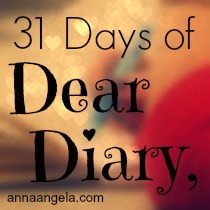 -Transcript-
July 26, 2010
2:45 AM
What is beauty? How do I find my beauty outside the confines of my bedroom mirror? I drown myself in Brisk, and escape in movies. Real joy is gone. He's silence to my deaf ears. Scales on my eyes deceive me. I placed them there. During the time when too much pain came stabbing down, I didn't want to know the truth. I allowed anger to reign with unforgiveness. Then apathy. I was so bitter. Now I'm mean. Extremely scarred. But I put on make-up and everything's alright. Until night rises, and slumber refuses my comfort until I can answer, "What is beauty? How do I find my beauty?"
-End transcript-
Today started well. Then I lost my temper because my plans were delayed by somebody else. It's one of my biggest pet peeves. When I'm bubbling with energy, ready to go and do what it is I've set out to do, then somebody interrupts me (even for a few minutes), I lose my temper. Every. Single. Time. Because I'm the kind of person who doesn't like imposing on other people, especially at the last minute. Which is why I hate it when it's done to me.
By the time I'm back on track, I'm in a big huff and finding fault in everything. Then I cross the road toward the store and a driver almost hits me. Plus, she honks at me like it's my fault. And that made me totally lose it. FYI, in case you didn't know, in parking lot plazas where there are no pedestrian lights or designated pedestrian crossing lanes, the pedestrian has the right of way.
So I lost it. I just blew up, in public. I'm an ugly person when I completely lose it.
How do I find my beauty?
Skin deep and deep in the inside, I've struggled to find my beauty.
It took years for me to look in the mirror and find myself beautiful. That confidence went away in public restrooms where somebody else's reflection was prettier. It took even more years to look at photographs of myself and not cringe. But that's only skin deep.
Inside where it counts, I could never find my beauty because of all the anger, pain, guilt, and fear. And for a long time, I thought God, who is "real joy," was silent toward me while I shut Him out, like two children giving each other the silent treatment (in truth, I was the only childish one). I felt stuck in this ugly, murky, life, which made everything and everyone around me ugly too.
Totally losing my temper today made me feel all the ugliness all over again. It was so easy to fall into despair, to start living without beauty, wondering where it went and how I can find it, but unwilling to change myself to live in it again. I wanted to stomp my legs, cover my ears, and yell at the One who changes, "Na-na-nana-na! I ca-an't hear you!" But I've done that before and it got me nowhere.
How do I find my beauty?
My beauty is found in God. It is through His grace and mercy that I am forgiven. It is through His love that I love. It is through His eyes that I can look in the mirror, look at the world, and find beauty. Because beauty is the Creator's reflection in our lives.
Nobody's perfect, and we all fall into ugliness from time to time. Don't lurk there, my friend. Run back to the beauty of the Father. In His arms, you can find your beauty and the beauty in the world.
Linking up with Coffee For Your Heart and Word Filled Wednesday,