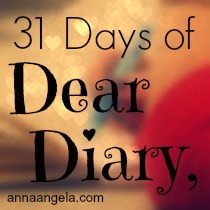 -Transcript-
May 10, 2006
Wednesday
Dear God,
Hello. I need Your help. You know what's going on in my life, and I'll tell You because I don't know where to go.
All my life, the road has been clear. There were moments of blind visibility, but I knew where I was going. Now I'm standing on a divide. I have to jump left or right before I fall into the crevice. On one is side all things I know. On the other side is all things unknown. Where do I jump?
Maybe You ask where I want to jump. I want to jump to unknown territory. How many times have I written to You about my frustrations? But the idea of leaving is so foreign to me. It's so weird.
What's Your will? I know I've got choices and wherever I go, You are with me. But what is Your will? I'll lay it all down at Your feet right now. Everything, I'll give it to You.
-End transcript-
Anthem Lights has a song, "Just Fall," that is a great response to this.
(If you can't see the video, subscribers head over to the blog, or search YouTube for "Anthem Lights Just Fall." It's worth the watch)
The song sums it up for me 🙂
I thought I had to jump to something. I thought it was up to me to seal my fate. But I just had to fall into God's arms and trust that He knows what He's doing.
"I know what I'm doing. I have it all planned out—plans to take care of you, not abandon you, plans to give you the future you hope for" Jeremiah 29:11 (The Message)