This week, I've been redeeming my birthday freebies! I still have a few to redeem, but for this week's Five Friday Faves, I'm sharing with you my top 5 favorite birthday freebies. There's a lot out there if you do your research. May we all have great birthdays this year!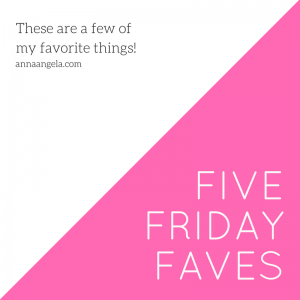 Starbuck's free birthday reward. If you sign up for their Rewards program, you earn stars for your purchases (2 stars per $1 spent). You also get a birthday reward (free food or drink). Unfortunately, this reward expires the day after your birthday. I don't know why they changed it, but I forgot and didn't get my reward this year. I'll be sadder if someone didn't gift me their 2018 refillable tumbler. I've been getting a free grande coffee or tea (I pick Peach Tranquility) everyday, so I'm okay. Plus, I have 2 rewards waiting for me…yes, I'm a regular.
Sephora's free beauty item. They usually have two birthday gifts you can choose from. I usually pick the makeup option and this year's is from Bite.
Ulta's free beauty item. This year is a lip mask and lip oil.
Nothing Bundt Cake's free birthday bundtlet. No need to buy a cake!
Red Robin's free birthday burger. Sign up for their Royalty program and you get a free burger on your birthday and for every 10th burger. Their Banzia Burger is my favorite (it has pineapple). You must provide your email and unsubscribing un-enrolls you from the program, but they don't send a lot of emails and I use Gmail so their emails go to my Promotion tab.
This week's pic! Read my review of this book.