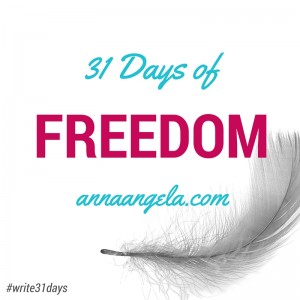 Just as God has a purpose for us, our greatest purpose is to glorify Him.
I have to be honest. That sounds like a trite Christian saying, and I used to treat it that way because if I didn't, God became more like an overlord than a Heavenly Father. There was pressure to be perfect because sins and failure did not glorify God. I'm saying this as a former perfectionist. Not messing up was kind of a big deal.
What I didn't realize for the longest time was that I really don't have to perfect to be loved. Trying to earn God's love and approval through perfection was an unnecessary prison filled with disappointment and guilt. The same goes with salvation.
God already loves us. His salvation is a gift, by grace through faith (Ephesians 2:8). His approval doesn't come from our efforts to be perfect, because nobody can attain perfection.
Oh I know, Matthew 5:48, right? "Be perfect, therefore, as your heavenly Father is perfect" (NIV).
It is not, however, in being perfect that we become good and faithful servants of God. It is in working out our faith, in persevering in obedience to God.
Not that I have already obtained all this, or have already arrived at my goal, but I press on to take hold of that for which Christ Jesus took hold of me. Brothers and sisters, I do not consider myself yet to have taken hold of it. But one thing I do: Forgetting what is behind and straining toward what is ahead, I press on toward the goal to win the prize for which God has called me heavenward in Christ Jesus. (Philippians 3:12-14, NIV)
By grace through faith, we have been saved. We have been made clean. Perfect in the eyes of God. Yet we don't stop there. We grow from glory to glory, being made perfect with every step we take in following God. Matthew 5:48 is an invitation to continue growing in faith.
God loves us in that process of growth. He loves us in our victories and in our failures. He doesn't turn away from us because we made a mistake. He keeps His arms open. He continues to wait for our return.
Freedom is found in Jesus Christ alone. We find true freedom in His grace. We don't need to achieve perfection first. We don't need to establish a pattern of good behavior first. We can come to Him messed up, broken, insecure, and angry. We can come to Him in the midst of chaos and pain.
We can come to Him in joy and celebration too! Sometimes we cast God aside when things are going well, but He'd love to celebrate with us.
Find freedom through the grace of God by faith in Christ Jesus. It is the truest freedom we don't have to earn, fight for, or become perfect before receiving. It is a gift God freely gives to those who believe.
"For God so loved the world that he gave his one and only Son, that whoever believes in him shall not perish but have eternal life" John 3:16, NIV.