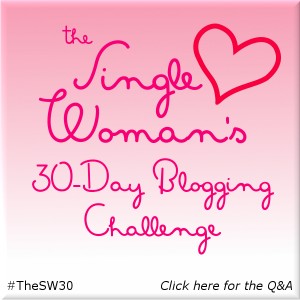 Question 2:
Describe a moment or a day when being single really sucked.

It was a night out with friends. A big group of us went to a prayer hill overlooking a city. It was a beautiful sight and a very cold night. Two friends just got married. Two just entered into a relationship. And more were in various stages of romance: "talking," exclusive, dating, in a relationship, etc. We were all sitting down, praying, when this wave of loneliness washed over me like never before. It was so intense, I sobbed.
Good thing we were praying, right?
I thought I was in the clear when someone came up to me and said, "God led me to tell you that even though you're feeling lonely right now, He is with you."
One of the tallest hurdles I have to continue to jump over is loneliness. I'm an introvert and I sometimes blur the lines between taking time off for myself and being isolated from my friends. Add singleness to that and it's not hard to figure out why a moment of loneliness is the moment I remember when being single really sucked.
I know you can be lonely even if you're in a relationship or in the middle of a crowd in a rock concert. I get that. And I get that God really is with us. That's His promise. To never leave us or forsake us. He is with us. I get that.
But.
Take your pick.
But we're human and we get lonely.
But I've never dated. When is it my turn?
But I'm cold and I want the one  to give me his jacket.
You know one of the things that's so great about God is that He understands. By sending Jesus down to Earth as fully God and fully human, He understands what we feel. He felt lonely too, abandoned, betrayed, sad, etc. And He gets it. But more than just getting it, He solves it. He replaces our loneliness with His unfailing love and faithfulness.
That's pretty awesome, which is why I'm going to jump to Question 3. Because I don't want to leave a post with a memory when being single really sucked. So here goes.
Question 3:
Describe a moment or a day when being single was really awesome.
May 12, 2013.
Around 11:45am.
Mother's Day.
Believe it or not, a moment when being single was really awesome happened on Mother's Day.
It was after church. We were all mingling and greeting the moms. I was heading back to the children's ministry room to clean up when a sister stopped me.
You've got to understand. People put a stigma on children's ministry directors, pastors, and leaders who are single and don't have kids of their own. They may not mean to do it. They may not mean to judge. They may not mean to dismiss us, but it happens because of the thinking, "You don't have kids so what would you know."
So come every Mother's Day, I've been told things like, "One day you'll be married and be a mom yourself" or "It'll be your turn soon" or "You too. One day. We'll just find you a husband." Gee…thanks….
So the sister stopped me, gave me a hug, and said, "You're a mother too. Look around. These are your kids. Happy Mother's Day."
And in that very brief moment, I knew that she got it.
I'm single because I chose to be single in order to devote myself, my time, and focus to God. There are more things God has in store for me while I'm single and I want to see them through.
And by pointing out that I'm a mother, this very sweet sister reminded me of the important work I'm doing for God and the fruits that go with it.
So let me return the blessing. You who are single and devoting your life to God, you're a mother.
You have people you bless and influence. You have people you lead. You have people you serve. You have people you guide, counsel, teach, and encourage. You are a mother.
You feel the burden of making sure they are more than okay, that they can one day stand on their own faith, and be wonderful people to the world. You, even though you're single, are a mother.
You pour your life into the lives of others. You're a mother.
And everyday is your happy mother's day. Go you!