It's like I dropped off the face of the planet, but if you follow me on IG, you know I just entered a super busy season and that's why I haven't written much here. But it's a new year and introspective little me wants to share (and document) what 2017 has been like and what I hope for in 2018.
#2017bestnine
There's a lot that happened in 2017 that I'm grateful for and excited about.
These 3 things happened in the same week: I graduated from Kidmin Academy, visited Nashville for the first time, and attended the first ever Kidmin Nation Mega Con.
I read 30 books! In 2016, I read 12. My goal was 24. Crushed it.
My tulips grew! Then promptly wilted. They were pretty when they lasted.
I cooked Singapore Rice Noodles for the first time. In 2016, I cooked Paella for the first time. This new recipe every year has suddenly become a thing.
I visited a Carnegie Library still functioning as a public library. History near me. That's awesome.
I did an overnighter at the aquarium, getting some mileage off my membership. Yay!
I started Bible Journaling, and then didn't keep it up, but I started.
I danced (and donated) for Dancember, an initiative started by YouTubers Judy & Benji Travis. They dance to raise donations for Convoy of Hope. They didn't meet their $1m goal, but you can still donate here.
These ministry things that happened in 2017:
I challenged 3 kids in Sunday school to use the gifts God gave them to help others. They came up with an Art Fair held during VBS. They raised about $46 for St. Jude Children's Research Hospital.
We held a Movie Night & DVD Drive at church that benefited Lucile Packard Children's Hospital Standford. The Movie Night had very low attendance, but the DVDs poured in so I'm thankful for that.
Our first ever Christmas Experience was a success!
We had a Christmas play presentation for the first time in a long time and there were so many missed cues and technical difficulties, but it was still a success! Here's what happened:

A toddler angel told me she was scared, clung to me with a death grip, and we almost fell into the backdrop together before the play even started.
Our "grown up Jesus" asked, "What do I do?" in a stage whisper.
Another toddler angel got tired and lied down on the floor in front of the manger.
Mary forgot to take the baby Jesus doll with her when escaping from Herod. She went back for him after our pastor reminded her to take the baby! It was the LOL moment of the night.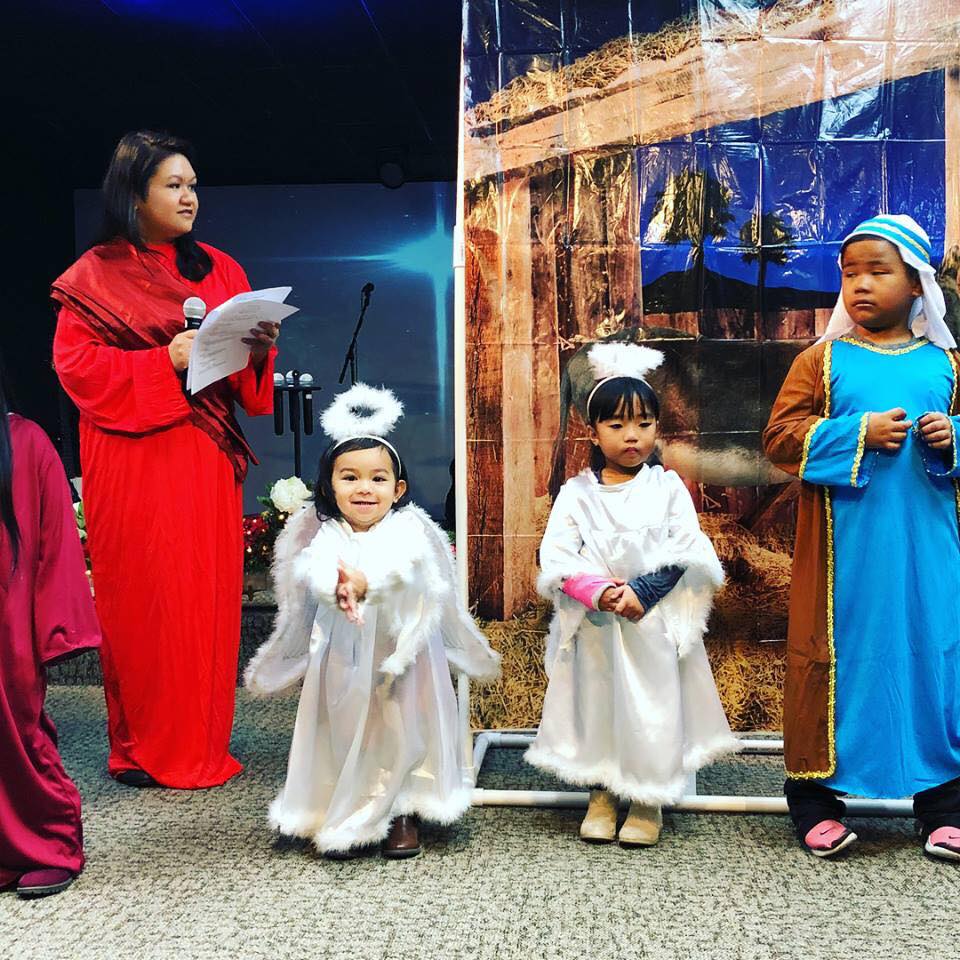 In 2017, I learned:
I avoid dealing with things by being busy.
I don't like most literary fiction.
If I want to set a goal of more than 200 OCC shoeboxes, I'm gonna need a truck.
I stop reading books in the Fall because my favorite TV shows are back on…and that's okay.
H&M gives you 15% discount for turning in a bag of used clothes (even if they look like rags). Thanks to my sisters for this tip!
What 2018 is going to bring (that I know of):
Online learning. I'm in the middle of a writing course, started an Enneagram course, and will start Kidmin Academy Next soon
A new way of meeting with my kidmin team
A new way of doing Family VBS
A new kidmin blog (it's not live yet) but it's here: kidmintogether.com
Possibly back to Nashville for Kidmin Nation Mega Con
Praying for a way to fulfill my annual New Year's Resolution: visit a US state I've never visited before
More YouTube videos
An overall attempt to be brave. To deal with the issues and face conflict. To prioritize what's important. To walk by faith one step at a time.