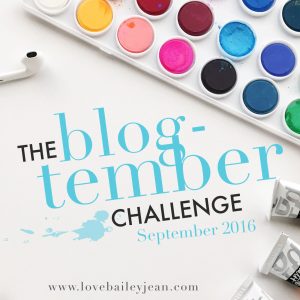 A list of your favorite blog posts you've written.
This blog is 3 years old. I started it to honor God with my writing and to write about faith in every season, the ministry, and singleness. I think the blog is changing little by little as I look for my stride, but here are my favorite or "I can't believe I actually wrote these" blog posts so far.
The Truth About New Age, Single, and Bitter Brauds is one of my top posts ever, and I feel a little uncomfortable about that because it sounds a little like I'm shouting in the post. We, INFPs, don't like conflict and confrontations. But something bothered me and I let it out, so it's making the list.
The Single Woman's 30-Day Blogging Challenge from Mandy Hale. I think I got a little too honest in some posts (haha).
Introvert Jesus was a post in my 31 Days of Passion series where I got something off my chest, which is that churches should stop saying being an introvert is not from God because they equated introversion with a spirit of fear or timidity. It's not that at all…and I'm getting off my soapbox before I keep going.
These posts on Mental Health: first, second, third, and a round-up. Because it's important to remove the stigma on mental health issues within the faith community.
31 Days of Dear Diary is when I opened and shared pages from my old diaries and journals like poems I wrote on church bulletins, wanting to date at 12 years old, and when I figure out where I stand on life support.