Ready.
Have I forgotten already?
The one word that God impressed in my heart for 2014.
The word that reminds me of where a I'm standing.
I'm standing on a precipice.
Poised to fly.
Or to retreat.
There are two ways I can go, but only one way I want to go.
Forward.
Forward into the plans of the One who loves me.
Forward into the ways of the One who believes in me.
Forward into the purpose God created me for.
Forward because He knows that I can do it.
I can do whatever He calls me to do because He will be with me all the time and in every step of the way.
Am I ready?
Yes.
I'm ready for whatever God has in store for me.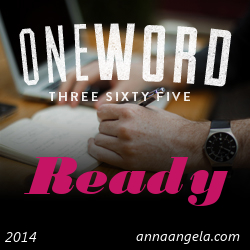 Linking up today with Five Minute Friday.