Every month, I'm taking a look back at the things I learned, loved, and lived through. I'm also looking forward to the next month. Here's my look back at March and why I've been so silent on the blog.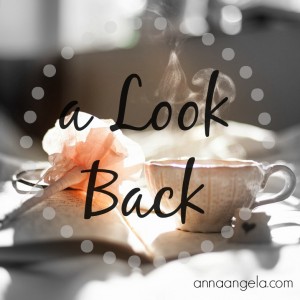 Affiliate links are included below. I may make a commission from purchases made through these links, but there is no further cost to you.
I have been quiet on the blog this month for this simple reason: rest and rumination. After doing a single life series and a big giveaway in February, I need time to step back so I can keep going for the long haul.
To be honest, I usually would feel extremely guilty for not putting out a post for a month, but I've enjoyed spending my time in other ways. I'm embracing what I call grace-blogging! It's like living in grace. Not guilt-tripping myself because I don't think I measure up compared to other people.
And what has grace-blogging bring me this month? Here ya go.
LEARNED
I dove a little more into my Enneagram type. I've only read online materials, but it seems like I'm a type 4, wing 5. According to The Enneagram Institute, type 4 is called the Individualist (and the romantics of the Enneagram), and 4 with a 5-wing is the Bohemian. I haven't found info on what the Bohemian is like, but here are some things I understand about the Individualist or 4s that I find true about myself:
Fours love our individualism and uniqueness. Being different from everyone else is fundamental to us and believe we have something special to offer, but that we are also deeply flawed. I see-saw between the excitement of having something special to share and the depression of having no worth or value. It's struggling between being created for a purpose even when there's nothing new under the sun. The basic desire of fours is to find ourselves and our significance, our identity. Our basic fear is that we have none of those. It's when I'm in the midst of this struggle that I retreat, and I need to learn to always retreat into God's arms instead of just my own thoughts and feelings.
Fours can be moody, self-absorbed, and have problems with overindulgence. Why, yes, that's very true. I need to catch myself in these states, stop, and ask why. What's causing me to be like this? What's happening in my life and how am I subconsciously responding to it?
This advice, right here, is spot on: Avoid putting off things until you are "in the right mood." Commit yourself to productive, meaningful work that will contribute to your good and that of others, no matter how small the contribution may be. Working consistently in the real world will create a context in which you can discover yourself and your talents. (Actually, you are happiest when you are working—that is, activating your potentials and realizing yourself. You will not "find yourself" in a vacuum or while waiting for inspiration to strike, so connect—and stay connected—with the real world. (https://www.enneagraminstitute.com/type-4)
LOVED
Finding easy patterns to knit socks. The knitting itself (and modifying the pattern to fit my feet) is proving a little harder to do pull off.
Starbuck's Coconutmilk Mocha Macchiato is pretty tasty. I've had it both hot and iced, and they're both delicious.
My library has new check-out computers that can check-out multiple items at one time. It's awesome and super quick. The librarian and I were both marveling at it.
Turkey Pastrami from my grocery store's deli is yummy. I used to buy it all the time, but stopped. I don't remember why. I've been making sandwiches with it, butter lettuce, tomato, and gouda cheese. That gouda is awesome.
The live action "Beauty and the Beast." There's so much more background and backstory to the characters. Their stories are richer and deeper. Plus, the costumes and the sets! Gorgeous.
LIVED THROUGH
Books I read: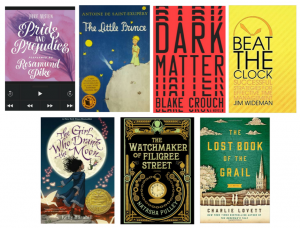 Pride and Prejudice by Jane Austen, audio book performed by Rosamund Pike. She did so great with it!
The Little Prince by Antoine De Saint-Exupery. The pictures are so adorable, and the story is a this great metaphor on growing up. I've been curious about this book for a long time, but didn't read it because I thought it would be as dull as the TV movie I didn't finish watching in middle school. Not dull at all. Skip the movie. Read the book.
Dark Matter by Blake Crouch. Modern Mrs. Darcy kept mentioning this on her podcast, so when I saw it in the library, I borrowed it. It was on the library's "Lucky Day" shelf, a shelf of books you can't renew because they're in high demand. Now I know why. Such a great book, and I hope the rumors of a movie is true.
The Girl Who Drank the Moon by Kelly Barnhill won the Newberry Award and for good reason. Also a great book with a lot of lessons, metaphors, and such that parents can discuss with their middle grade readers.
The Watchmaker of Filigree Street by Natasha Pulley was the 2nd book I picked for its cover (the first book I picked, I abandoned). It was in the new fiction shelf in the library and Pulley's first book. It's like historical fiction meets fantasy with steam punk elements. There were a lot of point-of-view, settings, and timeline changes, especially in what felt like the first 2/3 of the book, and the transitions were rough and a little confusing. I powered through it because of the main problem of the story – this bombmaker and how a mysterious watchmaker is involved. Then the story took a romantic turn that took the focus away from the main problem that was built up through most of the book. The ending was nicely wrapped, which I appreciate, but it could have been stronger if it continued to be the action-packed, mysterious story it started as.
Beat the Clock by Jim Wideman was my course book for the month, and he has great ideas on time management. I don't agree with some of them, as they seem to prefer certain personalities that match Wideman's personality. Like setting reminders for everything (when to eat, when to go home, etc.) and setting up your time in a way that feels overwhelmingly calendared. Knowing myself, living like that would stress me out. But there are also great tips, especially to incorporate in your ministry, like thinking in steps and putting the steps in the calendar instead of just due dates (something I started to do).
The Lost Book of the Grail by Charlie Lovett. Amazing! Since my first pick for a book I chose for the cover (it's below: Greetings from the Flipside), I abandoned and I wasn't sure if I would like the the 2nd book I picked (above: The Watchmaker of Filigree Street), I borrowed this, too, because I liked the cover. It also happens to be a book about books (2017 Reading Challenge), and it's awesome. It's about a Bibliophile's search for the Holy Grail (ala King Arthur and the Knights of the Round Table), friendship, love, faith, and growing up when you're grown up. It's well written and makes me yearn to dive into the traditional rhythms of faith and visit old cathedrals and castles in England.
Books I started reading:
Alice's Adventures in Wonderland by Lewis Carroll, audiobook performed by Scarlett Johansson. Love her accents. I downloaded a free eBook for my Nook. I find it more entertaining to just listen and imagine, though.
Books I abandoned:
The Plantagenets by Dan Jones because it's a super long historical nonfiction and I just couldn't.
Greetings from the Flipside by Rene Gutteridge and Cheryl McKay because the plot and characters didn't work for me.
Scrappy Little Nobody by Anna Kendrick because I borrowed the CD recordings, but couldn't lug around a bulky CD player everywhere I go.
LOOKING FORWARD
In April, I'm looking forward to:
Finishing another third of my children's story. I'm trying to write everyday, but when I write in a foul mood, I tend to throw a lot of catastrophes at my main character.
Meeting with new ministry volunteers (hopefully they come)
Easter!