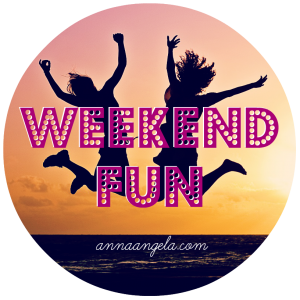 Happy Friday! I thought I'd share with you my favorite YouTube channels and you can spend some of your weekend browsing through their great content. And if you haven't already, you can check out my YouTube channel that I'm still thinking about what to do with. What would you like to see?
Life and Family
Claire and the Crosbys uploads songs and music videos by Claire and her dad, Dave. Claire is a great singer who's been on Ellen and Little Big Shots. They also have family vlogs and other fun videos. Check out Claire & Dave singing "You've Got a Friend in Me."
ItsJudysLife is the vlog of Judy Travis and her family (husband Benji, daughter Juliana, twin daughters Keira and Miako). She has an adorable family, and what I love about them is they use their platform for Dancember, where they (plus other Youtubers and people around the world) dance through the month of December to raise money for Convoy of Hope.
The Frey Life is the vlog of Peter and Mary Frey. Mary has CF and it's inspiring to see her perseverance, strength, and joy even through tough times.
Live Each Day is the vlog of Cory and Kristen Williams, and their adorable daughter Chell. They take us with them in their daily adventures, which currently includes Cory's new Big Mean Kitty children's book and creation of the big mean kitty music video.
Food
Sorted Food is a cooking channel from England, made up of and hosted by Ben, Mike, Barry, and Jamie. They're hilarious and make great food. I've made a few of their recipes and they were delicious.
Food Wishes is the cooking channel of Chef John, who's based in San Francisco. He makes great food that's easy to follow. He also has a snarky humor that's entertaining.
Random
Brian Hull is a voice impressionist who's behind the "Disney and Pixar Sings Let It Go" video. He also does voice impressions in Disneyland (those are fun to watch!) or a drive-through, and also does colabs with other YouTubers.
Lisa Eldridge is a professional makeup artist who works with celebrities, models, magazines, and brands. Her makeup tutorials are easy to follow and well made. I learn a lot of tips and tricks from watching her videos.
Coolirpa is the DIY fashion and upcycling channel of April, where she thrift shops for clothes and transforms them into something new. There's a bit of sewing involved so her videos are not jump-into-it videos for beginners, but they're inspiring for those who want to start sewing or upcycling thrifted clothes. I barely handsew, but her videos inspire me to upcycle what I already own instead of going out to buy new things all the time.
Video Influencers is a channel by Sean Cannell and Benji Travis (yes from ItsJudysLife above) where they interview different YouTubers to help viewers grow their influence, income, and impact with online videos. There's a lot of wisdom, knowledge, and inspiration from their interviews and videos that isn't just applicable to people who make YouTube videos, but can be applied to people, companies, or even ministries who want to use videos to grow their reach and impact.
What are your favorite YouTube channels?