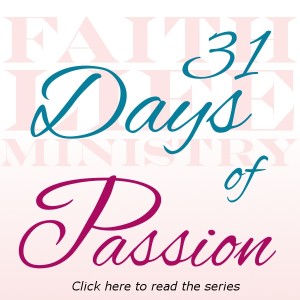 I find it kind of ironic that a Pentecostal would call worship a quiet passion. Aren't we on the crazy side? 😀
But like I wrote yesterday, it's the heart that God looks at. That goes for worship too. Bottom line is whether we worship loudly or quietly, our hearts have to be in the right place.
Post done.
Just kidding. You know me, I've got a little bit more to say.
My mind runs a mile a minute. Another kind of irony since I hate running. But as much as I love imagination, it can also be my biggest hurdle. I tend to think too much, sometimes about improbable things, and that hinders worship.
When you've got to-do lists, ideas, if-only's, I-should-have's, worries, and so much more going through your head, it's hard to focus on God. And when you're in deep pain or feel dead inside, it's literally hard to raise your hands in worship.
Worship needs to start from deep in your heart where you've abandoned everything and the only thing that matter is you and God. And I can't tell you how to get to there because nobody but you and God knows the condition of your heart. Maybe you're like some people who can get to the – using a popular phrase – heart of worship quickly. Or maybe you're like me, with a million and one noise I have to quiet.
Sometimes I wipe my mind clear of all thoughts by imagining myself erasing a white board with my hands. I imagine sweeping my hands to clear a path to the Father. I imagine His heavenly throne at a courtyard filled with His children. The people part and I'm alone with God. He takes me in His arms and I rest in His love. We dance on the courtyard and all my burdens melt away. I'm engulfed in His presence. Nothing and no one matters. I whisper praises to Him in tongues only He can understand. And I cry because He understands, even when I can't. He understands what I'm going through, and He promises to always be with me, to take care of me, and to love me. As imperfect as I am, He loves and forgives me.
And that's why worship is a quiet passion. It's a deep love and reverence of God.
Linking up with Walking Redeemed today.