I don't like riding roller coasters. They're scary.
I've only been on 2 roller coasters, and both times was because I caved into peer pressure. My friends threatened to ditch me if I didn't ride with them. Kids can be so cruel.
You know what it is that scares me?
The ride begins to climb. You hear the gears pulling you higher and higher. Steeper and steeper you ascent until you can't see the horizon. Just clouds. Like reaching for heaven. Anticipation builds because at any second, you're going to plummet down to earth. You're in for the ride of your life.
That excites many people, while I'm trying to hold down my lunch. My stomach churns. My knuckles turn white as I grip the measly beam anchoring me to a tiny cab teetering on narrow rails. What. Was. I. Thinking?
My stomach feels hollow. I know what's coming. We're going to be thrown and thrashed and hurled. But first, we're going to plummet. We're going to dive. Fast and hard and my stomach will bottom out.
THAT is what scares me. THAT is what I don't like about roller coasters.
Throughout the entire ride, I know that the park has taken every safety precaution. Throughout the twists and turns, I know that accidents and deaths are rare. There's no guarantee that nothing will go wrong, but the statistics are on our side. I know that.
I also know that there's usually only one or two big dips, and the subsequent fast and hard-hitting pushes and pulls are actually quite fun. I know that.
And the ride will be over in mere minutes. Nothing compared to the line I was just in. Enjoy it while I can, and I can enjoy it. I know that.
But knowing doesn't take away THAT feeling. That bottoming out of my stomach when I'm practically on a free fall. When my breath is taken away and I don't know what's going to happen next. When I'm reminded that it's really too late to back out. There's nothing I can do but ride out the ride because I don't have control of the controls.
Ever feel that way?
My One Word for 2014 is Ready. I can feel that God, already working on my behalf, is about to usher something big with me along with it. He has made me ready while He is readying, preparing, me at the same time. I'm on the precipice, in heavenly anticipation.
I was so excited until I felt THAT feeling, and realized that I am on a roller coaster. I'm on the ascent of a roller coaster. I'm not afraid because God is on the controls, but my stomach is still churning.
Ever feel that way?
God is leading you, calling you, to do something. You know it. You feel it in your bones. His Spirit in you makes your heart go crazy desiring things you've never thought of before. Big dreams. Godly dreams you didn't know of but now want oh so bad.
You see God aligning the pieces for you. He's opening doors and windows. Like the perfect chess game. Everything is falling into place.
Soon it'll be your turn. It'll be your move. It'll be your time.
And your stomach bottoms out. Your breath is taken away. The dream is too big. The ride is too fast. It's all too much out of your control.
And it's too late because you can't back out. Where will you go? Run like Jonah? What storms will follow you if you do? How will your heart ache if you turn away from Him?
No, you obey. You have  to. You want to. Because you love Him and know that you're on the right path. You're exactly where God wants you to be.
But you can feel it. THAT feeling. You're in for a crazy, twisty, earth plummeting ride that's going to throw your life upside down and inside out and loop-the-loop.
And it's okay. Breathe, my friend. God is in control of the controls. It may feel like you only have one lousy beam of support. It may feel like you're going to fall off the narrow rails and lose everything. But you're not.
You're safe. You might get rattled and a bit shaken up, but a great adventure will do that to you. God's plan will do that to you. A God sized dream will churn your stomach and make it bottom out. You might even lose your lunch.
That's how we know we're in God's plans. They're never something we can do on our own. We'll have to depend on Him, rely on Him, trust in Him, and put our faith in Him every step of the way.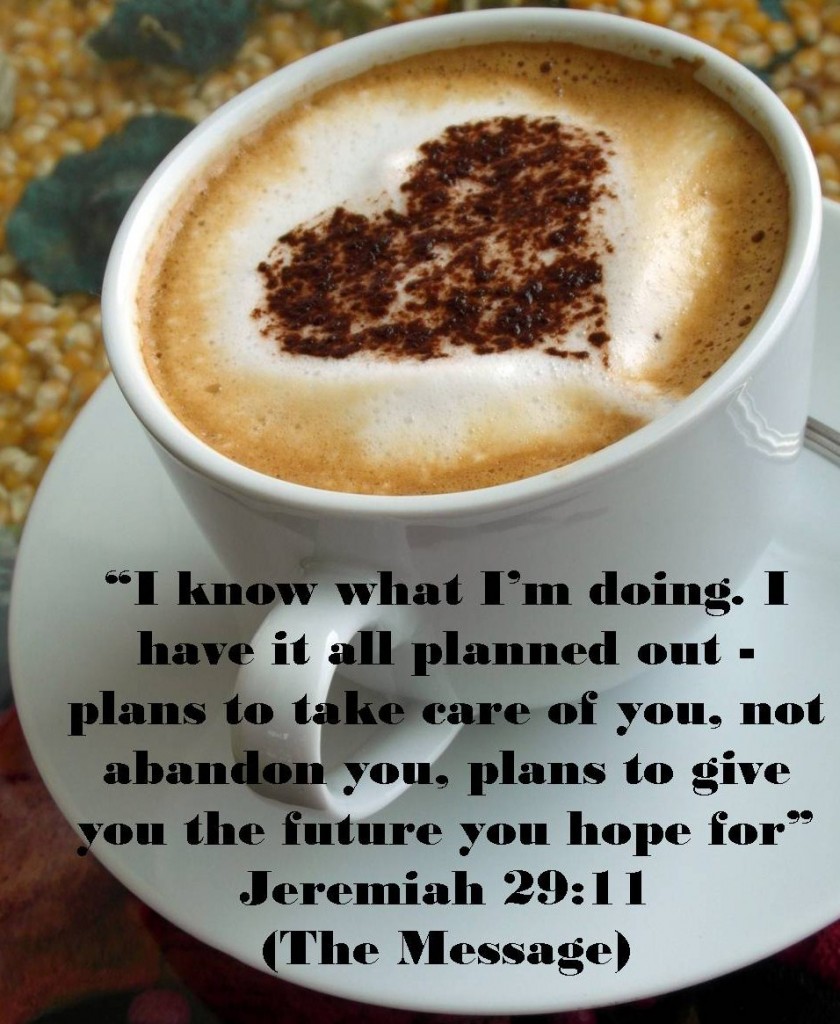 The good news is God knows what He's doing. There's a plan in place. It may be a roller coaster, but it's on a set path. We're safe in His path. We're not alone. We have hope, a future we hope for.
Ride out THAT feeling. Let your stomach bottom out. Get freaked out. Get excited. Lose your lunch. Shake it off. Build it up. Because as long as we continue to trust and obey God, we're good.
What's up ahead in your roller coaster? Care to share?
Mine is family ministry. Learning about it makes my stomach churn in a God crazy way. I believe He's calling me to lead a transition that I can only do with Him. I've been praying for our kids to crave Him so deeply and He gave me an answer that overwhelms me. I know it's from Him. I can see the loop-the-loops, and I'm riding out THAT feeling. Which is where I've been for the past two weeks or so. That and getting through a muscle pain (found out that Excedrin works but makes me feel muddled).
Join these awesome link parties! Linking up with Coffee For Your Heart, Word Filled Wednesday, Wholehearted Wednesdays, and Winsome Wednesday.