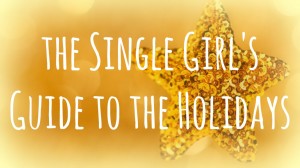 Californians are freaking out right now. There's something falling from the skies and it just won't stop. It makes our valley cold, and people are wearing something called a "jacket" and using something called an "umbrella." What gives?
Coming from the Philippines where storms mean rolling blackouts and waist-high floods, a little rain isn't too crazy. Unless it's pouring on people who are always under the sun. Just last week, people were still in shirts and dresses. It's kind of a shock.
My church is participating in a Christmas display in downtown. Because of this storm, the organization sent an email inviting all participants to check on our trees and ornaments. They always caution everyone to use weather resistant ornaments, but there hasn't really been an issue until now.
Has something rained on your holiday parade?
Perhaps you had plans that fell through or went sideways. Maybe something happened that's out of your control, but is affecting your life anyway. Or maybe it's actual rain that rained on your holidays. Or snow. Or sleet. Or unbearable heat for my friends down under.
It's hard to find the silver lining in the middle of the rain, when the skies are gray and dreary. But it's there.
California needs the rain and the storm to help alleviate the drought. And sometimes, when things go crazy, it forces us to slow down, take a breather, and switch perspectives.
A little rain, a little craziness can be a good thing.
So I'm going to throw this crazy idea at you.
Start a side business.
In the holidays? In all this craziness? With so much planning to do? When there hardly seems to be any time at all?
Yes. Yes. Yes and yes.
I'm not a business-y type of person. I don't have the head for it, and when one pastor with the gift of prophecy prayed over me and prophesied me owning a small business…well. I knew he was wrong. Maybe a touch crazy. I wrote about it in my journal, and I laughed.
I laughed, in my heart and with my doubts, I laughed like Sarah did. But that touch of crazy, it turns out, is from God. Because now I have a small side business: scarves. People buy my knitted scarves, each one unique because they are handmade and affordable because that's part of my business goal. And it only happens when the rain comes out and Californians get cold.
Silver lining.
I don't have this business thing down. I'm trying to figure out how to really establish it as a business as opposed to a random messages placing scarf orders. But it's a blessing from God to get a little bit of money (and it's really a little bit right now) from something I love to do and can do very fast.
There's probably something like that in your life. Maybe you also knit or crochet, and can sell scarves or hats. Maybe you bake and can sell homemade pies, or cook and sell homemade hams. Perhaps you can make very beautiful handmade cards. Or maybe you're really good with kids and have time to babysit. Or you're great an organization, and can teach those skills or can organize a room or house for others.
You can turn your talent or skill into a side business, even if all the profit you get is enough to only buy more materials or ingredients. Who knows? Maybe one day, it will turn into something bigger. Like being faithful in the little things first, so God can entrust you with something bigger.
And the holidays is the perfect time to start. Sure it gets crazy and busy. But it's also when people are in need of gifts and services, and people are more willing to pay a friend than a store. It's the time when personalized gifts are in high demand. It's when people love all the DIY and craftiness around them. It's when we all need a little bit more help and order in our lives.
So go ahead. What can you do? How can you offer it to others? Get a touch crazy and start a side business! Who knows where it will go from here?