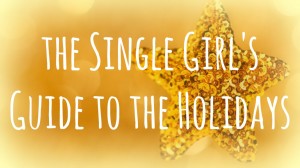 The holiday season is the perfect time to learn photography for several reasons.
1. A basic knowledge of photography can help you take better pictures, whatever the subject and whatever the season.
There is a lot to learn, I'll give you that. Don't let that deter you. We all have to start somewhere. My advice is to first learn about: depth of field, the rule of thirds, and space. I think these 3 will help you get a great start even if you're only using your phone to take pictures.
Here's a quick lowdown. Dept of field deals with what is in focus in a photograph. Most of us take a picture where everything is in focus. Shallow depth of field makes a photograph more interesting (and I think prettier). It means the main subject is in focus while the background is blurry. Like so:
The rule of thirds is basically dividing the photograph (or what you see through the lens) into a 3×3 grid and placing your main subject on or near the intersections. I noticed that the people I know who never learned photography have a tough time figuring out how to take a picture. What angle to take, where to position a subject, how to hold a camera, etc. Learning the rule of thirds will help with all that because it deals with the composition of a photograph.
Imagine this when taking a picture:
Then space. I love a good use of space: white space, blank space, quiet space. In public speaking, a well used space can create dramatic pauses and emphasize points. In written publications, it relieves readers from too much text. In interior design, it can open up a room or emphasize a focal point. In photographs, it does a lot of the same things. It can open up a photograph and let it breath. It can emphasize the subject or make the photograph more dramatic. It can tell a story.
With space, it's is a young man standing on some boulders, pensively looking over a vast expanse of water and sky. We see how small he is compared to his surroundings, and we wonder what he's thinking. Maybe it can resonate with us when we feel burdened with many problems and feel so small compared to the world.
Space also deals with what's around the subject of your photograph. Be aware of what surrounds your subject. Those things can be distracting and create photographs of people with odd things sticking out of their heads or bodies, limbs cut off, or just a messy background.
Three things about photography and there's a lot to be learned already! But like I said, we have to start somewhere. With social media and amazing cameras in cell phones, photography is a big part of our lives. You won't regret learning some basic photography tips, concepts, and rules/guidelines.
2. A camera occupies your hands.
It's a little trick to stop yourself from reaching for another serving of food (if you don't want that other serving. Otherwise, enjoy I say!). It's also great if you end up strolling through the city with your friends and they couple up, walking side by side, holding hands. Having empty hands when everybody else is holding someone else gives me little pangs inside. That's the truth. It's one of the things about singleness that gets to me. I invested in a Nikon DSLR many years ago, and as bulky as it is, I lug it along with me because I know my weaknesses. And I don't regret it! I come away with beautiful pictures I can share and it helps me practice my photography skills.
3. It's useful.
I first took photography in high school. I'm talking old school black and white photography, and I just loved it. Having even a basic knowledge of photography is very helpful. I use it for personal photographs (like when I travel), in fundraisers, and church activities and events. It also helps me create/edit graphics for this blog.
Most recently, I took family and group photographs at church for our Children's Ministry missions fundraiser. We have a tree in our city's Christmas display. We turn the photographs into ornaments to hang on that tree. For $5, the people get to support our missions fund and have a keepsake ornament for years to come. Each ornament costs about $1.50 to make. That's a lot of profit! And I get to use the camera I invested in, and having some experience in photography, helps me work quickly and efficiently in the most basic set-up there could possibly be.
Seriously basic. We have a Christmas tree near the door of our Children's ministry room. I had my camera, and I worked mostly on auto. But I knew to watch out for space, the rule of thirds, and depth of field when I could.
My single friends, take some time to learn some basic photography tips, tricks, and concepts this holiday season and snap away!