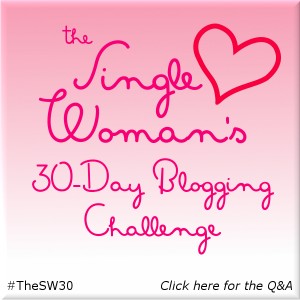 Question 4:
Your biggest fear as a single person.

It would be obvious to say I fear not meeting the man I'm going to marry, and sometimes I fear that. On those days when I haven't gotten out of the house or the city for a long time and I wonder how I can meet him when I hardly meet anyone at all, I fear that.
But I believe that God works when He wants to work. If we can depend on Him to heal us physically and provide for us financially and all those wonderful things He does, then we can depend on Him to hook us up with the right person in His right time and in His way. God can handle our love lives, and it'll be better than anything we can ever come up with. So I depend on Him to do His thing without any help from me, especially since I have no game 😀
My biggest fear as a single person is getting kidnapped when I'm travelling alone.
Fortunately, I haven't traveled alone, at least not very far from home. But even if I was in my home town, I could still be a target when I'm by myself. That's why I carry pepper spray, but I'd love to brush up on my Taekwondo. I'm a purple belt, I'll have you know…but I forgot most of the moves….
🙂
I'm really not joking, by the way. I know my answer may seem like it, but it's not. Maybe it's all the crime drama I watch combined with the rising crime in my neighborhood that makes me wary of being a victim especially when I like to do things by myself. I know God protects me and this is not a big fear. It's just the biggest as a single person.
Question 5:
The biggest misconception you think people have about single life.
That every single person wants to stop being single.
That we want to meet someone or go out on a date or be set up. Not every single person wants to stop being single. I didn't. I still don't. So stop already 🙂 Stop the pressure, the questions, and the hints. And I'm not just talking to couples here.
Sometimes I get asked out by people who know who I am but don't know me. To their credit, I'm not great at explaining myself in person. I feel awkward when it gets personal and I've learned not to justify myself because God is my Justifier. So if I don't feel like it, I won't explain myself to you.
But hello! I've been blogging since the Xanga days so it's not very hard to figure out my thoughts, values, and beliefs. Be a friend first (or just read) and you can figure out if I'm the kind of person God wants you to be with or if you're the kind of person God wants me to be with.
And if you still can't figure it out, then here it is. I fully, completely, wholeheartedly believe that God wants us to honor Him in our single life. That means we need to stop trying to provide a mate for ourselves, and allow God to provide everything for us, just as He promised to do if only we seek Him first.
And that's how I know not every single person wants to stop being single. Because we're not done being single.