If you're bored, you're boring.
It's the only thing I remember from a late night talk radio show, and ever since, I've never been bored from doing nothing. From doing nothing. I've been bored with speakers. I've been bored with shows. I've been bored with events. But I've never been bored because I didn't know what to do. I've never been bored even as I lounge on the couch doing nothing.
It's natural for bored to be a reaction. It's another word for unimpressed, uninspired, or underwhelmed. Don't let bored become your state of being. The idea is simple. If you're bored from doing nothing or just because you are ("I'm bored because I'm bored."), get up and do something! Or stay sitting down, but think, reflect, muse, and contemplate.
Setting seasonal bucketlists help keep boredom from becoming our next status update. Here's a free printable with 10 bucketlist ideas and space to add your own.
Summer Nights Bucketlist
(click on the image below to download a US letter size pdf)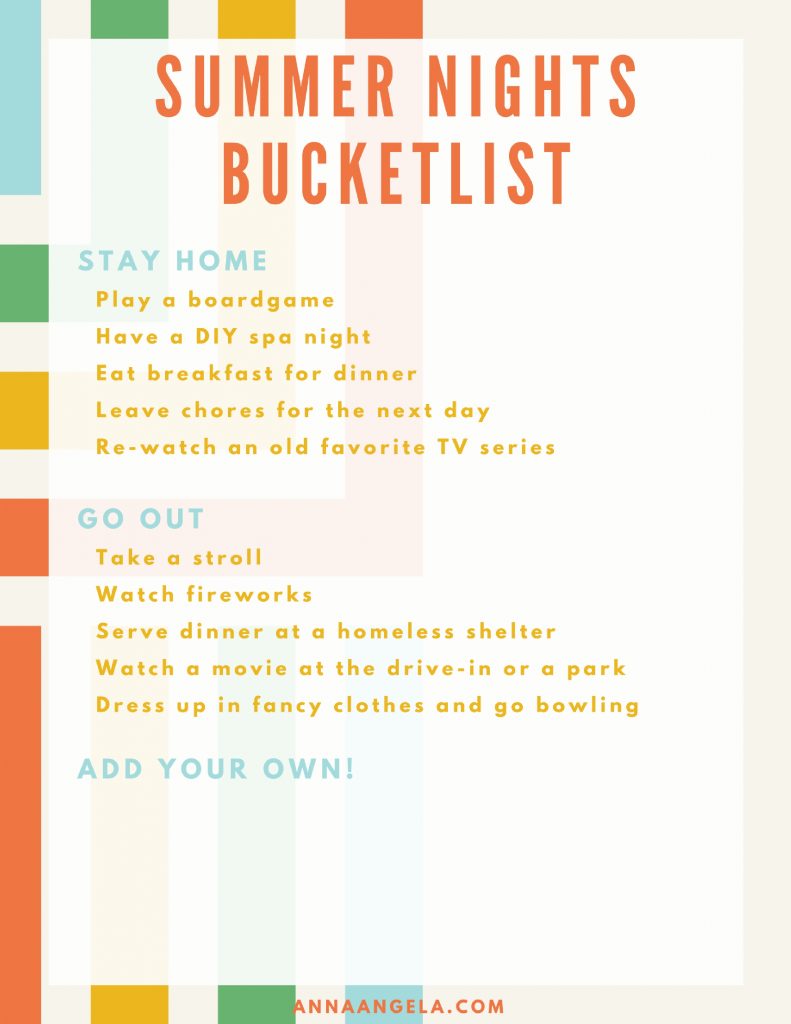 My personal summer bucketlist is different. The things on it have been changing now and again. Girls have the right to change their mind! Here's what I have so far:
Read a book by the beach or pool (check!)
Visit a Carnegie library
Visit the aquarium (I must use the membership!)
Use up my art and DIY supplies
Read through my ever-growing book stack
What's on your summer bucketlist? I'm not talking about goals or things-to-do. I've got those, too, but I want to intentionally do something to keep my sanity. Try these tips when coming up with your summer bucketlist.
Think self-care. What helps you relax and unwind that you don't get to do often? Add it to the bucketlist.
Think of what you already have. Look around your house. What do you have that you haven't used recently? A boardgame or video game console? Have a family/friends game night. A treadmill or jump rope? Exercise for 30 minutes every other day. A hammock? Lounge in the backyard. If you already own it, you don't need to spend money doing it.
Think community. What's around your community? Better yet, check your city's websites for free community events. Look at your public library's calendar. There are a lot of free community or public library events in the summer. Many are for kids, but there's usually something for adults as well. Most of them also happen after work hours or in the weekend. Participate!
Think of a doable getaway. Maybe it's a staycation. Maybe it's a family road trip. Maybe it's a cruise. Hey, good for you! If it's doable, flex your planning muscles and go for it!
Don't waste your moments with boredom. Be intentional with self-care, spending time with family and friends, and engaging with your community. Be intentional with summer.