When I discovered podcasts, cooking got better. Don't get me wrong. I love cooking, but lately, it's become more of a chore than something I love to do. Listening to a podcast while I prep, chop, and saute has made it enjoyable again. I know people who listen to podcasts while doing laundry and other chores. Here are the Top 5 Podcasts I Listen To.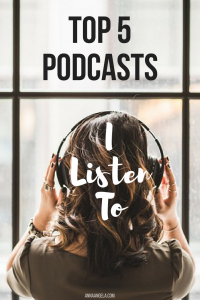 That Sounds Fun Podcast by Annie F. Downs

Hosted by author and speaker Annie F. Downs, this is my favorite podcast because it really is fun! Annie interviews her friends about practically anything under the sun. Whatever friends talk about when getting together, they talk about in the show. It's like being invited to a dinner party, but Annie's friends include authors, musicians, pastors, entrepreneurs, and much more, so you glean a lot of insight both fun and inspiring.
What Should I Read Next? by Anne Bogel

Hosted by Anne Bogel of Modern Mrs. Darcy, Anne interviews different book lovers about their reading life. If you love books and reading, jump in on this community. We get to hear from so many different people about their love of reading and what they're reading. Anne also gives them book recommendations based on three books they love and one book they're not so fond of. Most podcasts guests hate to say "hate" when it comes to a book!
5 Leadership Questions by Lifeway Leadership

Hosted by Todd Atkins and Barnabas Piper, 5 Leadership Question interviews different guests like authors, pastors, and entrepreneurs, and asks them 5 questions about leadership. There's often a lot of insight and wisdom. Definitely a take-notes kind of podcast.
Girls Night with Stephanie May Wilson

Hosted by author Stephanie May Wilson, this podcast is like chatting with your best girl friends over coffee or wine, around the dining table or lounging in comfy, wing-backed chairs. Honest, funny, and welcoming, it's a new podcast that I already enjoy.
The Next Right Thing by Emily P. Freeman

Hosted by author Emily P. Freeman, this podcast "helps create a little space for your soul to breathe so you can discern your next right thing in love." If you want a place to slow down, calm down, and breathe, this podcast is it.