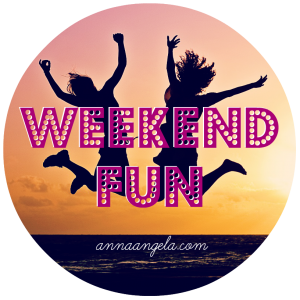 While Nashville is going crazy over the Predators, the Bay Area is going insane over the Warriors. Except this gal, right here, who doesn't have a head for sports. I tried to be a Sharks fan, but fell asleep while watching a game on TV. I went to an A's game against the Cardinals, but sat there doing my Math homework. I don't understand the rules of football AT ALL, although my sister and I agreed we should probably be fans of futbol or international soccer because they have the best looking players! Apparently, if the Warriors win tonight, they win the finals. So whether you're cheering on a team or watching your friends cheer, I hope you have an awesome weekend. Here are some sports-watching-alternatives for you!
Affiliate links are included below. By purchasing through these links, I may make a commission without further cost to you.
Watch this Evermore Cover by Brian Hull. The song is from the live-action Beauty and the Beast movie.
Workout with Toddlerography with James Corden and Jennifer Lopez. How adorable are these kids!
Modern Mrs. Darcy learned that deleting texts frees up tons of space on your phone. I did it and it worked! Like her, I didn't think about the pictures to go back and forth in group chats or just how many texts have been  sent. I deleted over 2,000! After clearing up your phone, read these 5 Tips for Your Digital Spring Cleaning about going through your gadgets and figuring out which to throw away and which to keep.
I have been obsessing with wax and seal stamping since they've been popping up on my IG discover feed. I have a few wax and seals from many years ago that I'm dusting off for the summer. I want to find a way to use it for Bible journaling without destroying the thin Bible pages.
A recent Amazon order is this laptop privacy screen that I jumped on because I've been having a lot of peeping Starbucks neighbors. It's slightly smaller (13″ for my 13.3″ laptop), but works for me. It's not like I have anything to hide, but it calms my introverted soul.
And if you missed it, read my review of The Sacrament of Happy by Lisa Harper. Then purchase a copy because part of the proceeds will go towards building Happy Grove, a sustainable garden in Neply, Haiti.