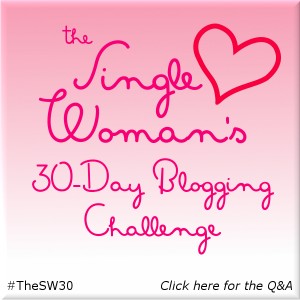 Question 1:
Your response to everyone's favorite question: "And why are YOU still single?"
Short answer: In God's time.
Long answer:
I chose to be single. Or rather, God asked me to wait and I said yes. My generation went through the "kiss dating goodbye" and "I'm waiting" trend, mania, phase, whatever you want to call it. But it wasn't a phase for me. I remember being really hurt and crying out to God. Then He was there. That peace, you know? The softly spoken words of love and encouragement. And He asked me to wait as a way of honoring Him and placing Him first in my life. Of course I said yes.
Then I ended up going to a Christian college with cute Christian guys and I'm like…d'oh!
Just kidding! I have never regretted waiting. Waiting for God's timing. Waiting for God to move in that area of my life. Waiting for His leading.
And waiting for me means being single and not dating. Instead, living. I focused on my relationship with God, my studies, growing up, family, friends, and ministry. Although there were…are moments of loneliness and lots of ups and downs, I live.
I love being single.
It's the right choice for me right now. And it has been for many many years.
When I wrote about my one word for 2014, which is ready by the way, I said that I had to explain the ready for my husband bit. So here it is.
For several years now, I was against getting married. I wanted to stay single because there's still so much to do and so many to see. And I was having fun!
Some moms in church were talking about who's getting married. One turned to me and said, "You too" (as in you'll get married someday).
And I said, "Not for years."
"Years?!?!" was her reply.
So it's not really being against getting married, it's against getting married anytime soon. I felt like my singleness was not over. That there's more to it. There's more coming. More adventure. More God-ventures. And I still feel that way, except for the against getting married anytime soon part. God took that away. I don't know why.
My one word reminds me that I'm ready for what God has in store for me. Be it an eMinsitry, a small business, or a husband. Whatever it is. Whenever He makes them happen. I'm ready. So the whole "not for years" attitude is gone. It's just openness to what God will do in my life. And that's a better attitude to have anyway.
Why am I still single?
Because everything should happen according to God's plan. His will, not mine, be done.
Cue the single ladies: