Happy Hump Day to you and Happy Blog Anniversary (blogiversary) to me!
I went to a library book sale and filled up a bag for $5. Check out what I got!
Why I'm building my Nancy Drew collection 
When my family moved to the United States, I couldn't bring my books. They were just too heavy to ship and we were limited to two boxes each. There was no room. I had to leave them all behind. That included all my beloved Nancy Drew books, Sweet Valley books, and Black Beauty. My parents said we could replace them, and they allowed me to pick two new books to bring with me on the plane. I have been replacing those books and building my personal library over time. I love these yellow hardback books. The front cover art and illustrations inside are beautiful.
Poems by Whittier 
I couldn't find another copy of the book I picked up. It's the Early Poems of Whittier, Arlington Edition, with a red cover. I was specifically looking for books with similar spines, but no luck. Most Whittier books were published in the late 1800s, and that's what I would guess this was published in.
According to Wikipedia, John Greenleaf Whittier (1807-1892) was "an American Quaker poet and advocate of the abolition of slavery in the United States. Frequently listed as one of the Fireside Poets, he was influenced by the Scottish poet Robert Burns. Whittier is remembered particularly for his anti-slavery writings as well as his book Snow-Bound."
Blogiversary Giveaway 
I have been blogging since the days of Xanga, but never consistently until I started this blog. I'm happy to have made it another year, and to celebrate, I'm doing a giveaway!
The book haul inspired me to do a bookish giveaway. Plus, I'm crushing my book goal this year, so I hope you would be inspired to read more with these goodies. Here's what you could win & why I picked them:
The Secret of Shadow Ranch, a Nancy Drew book – because I want to share my childhood with you
The Screwtape Letters by C.S. Lewis – because it flipped and challenged how I thought of Christian life and spiritual disciplines/practices
Socksmith Womens' "Jane Austen" Novelty Crew Socks in lavender – because I'm an Austenite and you should be, too (haha)
Book Darts (25pc) – because best. bookmarks. ever.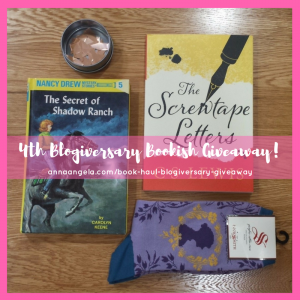 Best wishes and thanks for celebrating with me!
4th Blogiversary Bookish Giveaway