I received a free digital copy of "Who Counts?" from NetGalley in exchange for a review. All opinions in this review are my own. There are affiliate links below. If you purchase this book through those links, I may make a commission without further cost to you.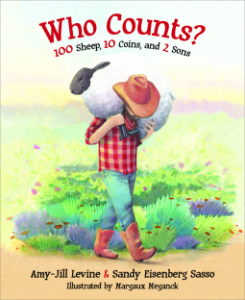 There some book covers that draw you in and this is one of them. The beautifully illustrated book cover of Who Counts? captivated me. It is just the kind of colorful, "moving" book cover a children's book ought to have. By "moving," I mean that the illustration alone conveys a story, an action, that invites readers to find out what's going on. A farmer going somewhere with a sheep on his shoulders? C'mon, how adorable!
Who Counts? is a modern retelling of the "lost" parables – the parable of the lost sheep, lost coin, and lost (prodigal) son from the Luke 15. It is geared for children 3-8 years of age or Preschool to Grade 2, and published by Westminster John Knox Press (released May 20, 2017). It is written by Amy-Jill Levine and Sandy Eisenberg Sasso, and illustrated by Margaux Meganck.
Just as the parables in Luke 15 are not three separate stories, but one connected story with a driving point Jesus wanted to make, Who Counts presents three interconnected stories with a driving point that everybody counts or matters, searching for what's lost, and celebrating being whole. Although, younger children will find delight in counting the sheep, the coins, and the sons. I counted them, too, and when the story says 100 sheep, the illustration presents 100 sheep!
I absolutely loved the illustrations in this book, and I think children will, too. They are beautiful and vibrant. Children will have fun looking for the lost sheep, coin, and son in the illustrations. For example, in one illustration, the farmer is pictured looking for the sheep hiding in the bushes behind him. In another illustration, the woman is looking for the coin just outside her field of vision. It is easy to envision how well this book will do during story times for preschools or Sunday school – especially since, this modern retelling is easier for younger children to understand.
Another aspect I loved about the illustrations is the diversity of the characters. Different ethnicity groups are represented, as well as different age groups!
There are a few words or terms that I felt might fly above some young children's heads, such as responsible, flock, drachma, and the pods that pigs ate (my urban-suburban kids won't know this), though they should be easily explained by parents and teachers.
In the story of the lost son, one illustration shows the son in a marketplace with a booth filled with produce. In the following illustration, the story and picture says there is little food in the land where the son is at. I know it seems like nitpicking, but these are the kinds of details children actually do pick up on. That said, these are the places in the story that parents and teachers can expound on. The Bible says there was famine in the land after the son spent all he had. Adults can point this out to inquiring children, expound on the story, and have a chance to refer children back to the Biblical text.
What I liked in the retelling of the prodigal son's story, which would be my biggest caveat for teachers and parents, is the expansion of the father and older son's relationship. In this, the authors veer away from Scripture. The father absentmindedly forgets about his older son. Traditionally, in the parables, the father represents God, who welcomes His prodigal children (us) without making us work for His grace and favor. God also doesn't forget about His children, unlike the father in Who Counts? who forgot about his older son.
Who Counts? has a note to parents and teachers from the authors with an explanation of how they retold the parables and how to use "Who Counts?" to have further discussions with children (including question prompts parents and teachers can use). They include an explanation for expanding their retelling of the prodigal son. I think it added depth and a fresh perspective to the story, helping readers think about people we might have overlooked and so lost. I also liked it because I always related to the older son. I was the good daughter who stays and obeys, but feels lost in my stable environment. I think a lot of children growing up in the church feels that way, and it's important for them to know they also count/matter.
Overall, I recommend this book to parents and teachers, noting that they should read it with their children, be ready to explain some terms to younger children, and use the prompts to start honest discussions. I recommend referring back to Luke 15, and helping older children use Who Counts? to understand the original parables.
If you want to order this book, would you consider purchasing through this Amazon affiliate link? Who Counts? by Amy-Jill Levine and Sandy Eisenberg Sasso
It adds no further cost to you, but gives me a small commission to help run this site. Thank you!