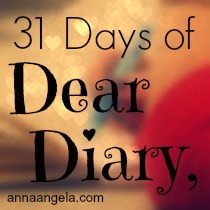 This poem was written on a binder paper. There's no title and there's no date. If I had to guess, I wrote it when I was a junior or senior in high school because there are some parts I wrote in slang. I apologize right now. I do. I don't even…I just…I don't know what I was thinking. Here is it, unedited because I said I won't edit them. I hid all of my red pens anyway.
Untitled
So I stepped back and looked at my life,
And I feel in my heart that somethin' ain't right.
I'm fallin' again into the same sin,
When my heart's suppose to be clean.
And I could hold no longer,
My life's fallin' apart.
When I try to do my best,
I start a wrong start.
Now I see myself in the darkest pit,
And I know fo' sure that I've been hit.
Crawlin' around, I can't get out.
So I cry to my God, "What's this all about?"
You're my Shepherd, why'd you let me down?
Why're You leaving me in the darkest town?
You're my Savior, that's what I've been told.
So where are You, Lord, when troubles unfold.
You left me in the dark and I cannot see.
I'm dying out here, just look at me.
Tell me Lord, is this Your will?
For my life to be lived in Satan's grill.
But not at all for I hear Your voice.
You're saying, "My child, turn down the noise."
"I've always been here, forever at your side,
You've just been blinded by false strength and might."
But I cannot look up for I'm filled with shame.
I don't know how the Lord can say my name.
So I plead to my God to not forgive.
'Cuz I'm worthy to die and not to live.
But I feel the warmth of His embrace.
And I feel Him give me His loving grace.
He's holding me tight and telling me so,
That never in forever will He let me go.
I'm holding onto Him.
My life is in His hands.
I've surrendered everything.
Followin' His plan.
-Angela Sangalang, undated
And may you remember that God loves you. It doesn't matter what you've done. It doesn't matter if you railed against Him or accused Him or ignored Him. He loves you. Turn to our God. He wants to lavish His grace upon you and carry you in His arms.