My mom mentioned something about a woman talking about waiting for her Boaz.
And I said, "Why does everybody want Boaz? Wasn't he much older than Ruth?"
So I went back and read Ruth, and yes. Boaz was much older than Ruth. How much older? We don't know, but enough to call her a young woman. Enough to call her daughter. Enough to praise her for not wanting to go after guys her age.
One of the fun things about being single – as long as I keep my heart intact – is thinking about the man I'm going to marry. What's he like? What does he do? What does he look like?
As long as I keep my heart intact, protect it from falling in envy, loneliness, etc., and keeping in mind the realities of humanity* and the realities of faith living**, then it's a bit fun to think about the future Mr.
And I don't want Boaz.
There's nothing wrong with Boaz. Biblically, he's a great example of a kinsman redeemer, especially as a picture of our Kinsman Redeemer. Boaz was a God-fearing man. He treated his workers fair. He was generous and protective. He didn't take advantage of Ruth when she laid herself at his feet. He went through the proper channels of being her kinsman redeemer. He had her and Naomi's best interest. He's amazing, that Boaz.
I just don't want a Boaz much older than me. And if you're going to claim something by faith, make sure you know exactly what you're claiming.
**That's the reality of faith living. It's amazing that we have a God who is working on our behalf. He has His plans that we get to be part of, but in His plans, He includes our best interests and our desires. He hears our cries and our prayers. He sees our hearts.
"I know what I'm doing. I have it all planned out – plans to take care of you, not abandon you, plans to give you the future you hope for" Jeremiah 29:11 (The Message).
The future you hope for. I hope for a future Mr. that's not much older than me 🙂
My pastor told a story about a time a couple went to him for prayer. They needed more money to provide for their family. Even a raise of $0.25/hour would help. They asked pastor to pray for that raise. He did. Two weeks later, they told our pastor they made a mistake. The husband got exactly $0.25/hour raise. They should have prayed for more!
Our Jehovah-Jireh that provides for us financially, heals us miraculously, and gives us better gifts than a father gives his child is more than capable to give us a spouse.
*He will not be perfect (realities of humanity), but he can be perfect for us. And us perfect for him. We can be exactly the right person for each other because God wrote the love story.
*He may not be or have every single thing we dreamed of. Not all men can be a rich, genius doctor, lawyer, pastor with secret superpowers. But he will have what God knows we need. He can be the right partner to mature spiritually with and grow old with. As we can be that for him because God knows how He created each of us and which creations can mesh well together, work hard on this life together, compliment and challenge each other.
Yet as we yield to what God knows best, He still hears our prayers. Just as we can pray for a small 25-cent raise, we can reveal our preferences to Him. He knows them already. He just delights in hearing from us.
What are you asking God for? Remember, nothing is too small or too great to bring to God in prayer.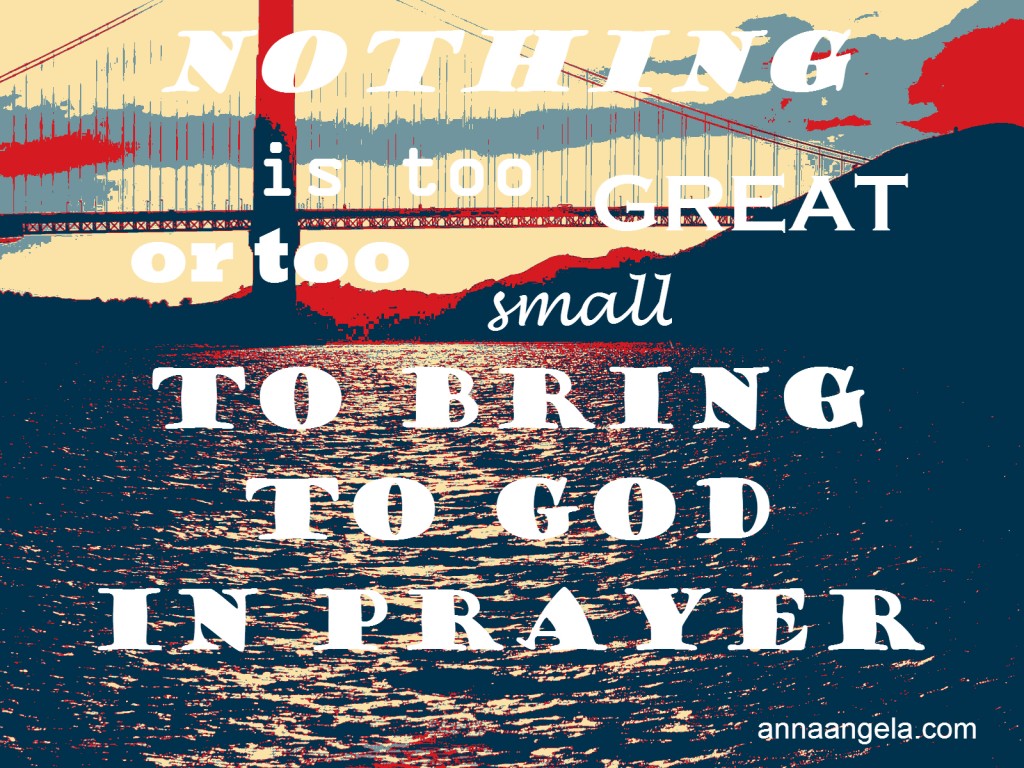 Linking up with The Single Life and Fellowship Fridays.