"Right?!?" my sister said in reply to my incredulous face as she showed me how to eat an artichoke.
Let's back track 40 minutes ago when I took 5 minutes to consult Pinterest before I washed, chopped, and seasoned three artichokes. I placed them face down on a baking pan and stuck them for 25 minutes in a 400°F oven, next to some sweet potatoes. In the last 10 minutes, I replaced the potatoes with bell peppers and flipped the artichokes.
Now back to the dinner table. I've never cooked artichokes before, and never eaten them as they were. I've had and loved spinach artichoke dips and artichoke hearts on pizzas and salads. Raw and unprocessed, they looked intimidating. As I plucked layer after layer of inedible leaf, my sister laughed, nodded, and said, "That's why I never order them because I don't think they're worth it for the price."
I didn't think they were worth it for the time, effort, and electricity! Overall, baking the artichokes was very simple. Nothing to it. But even the tiny effort it took was not worth the minuscule amount of edible flesh you get in one vegetable. I would rather buy artichoke hearts in a jar or can. This whole artichoke experience, however, taught me something about how we can reach the heart of a matter.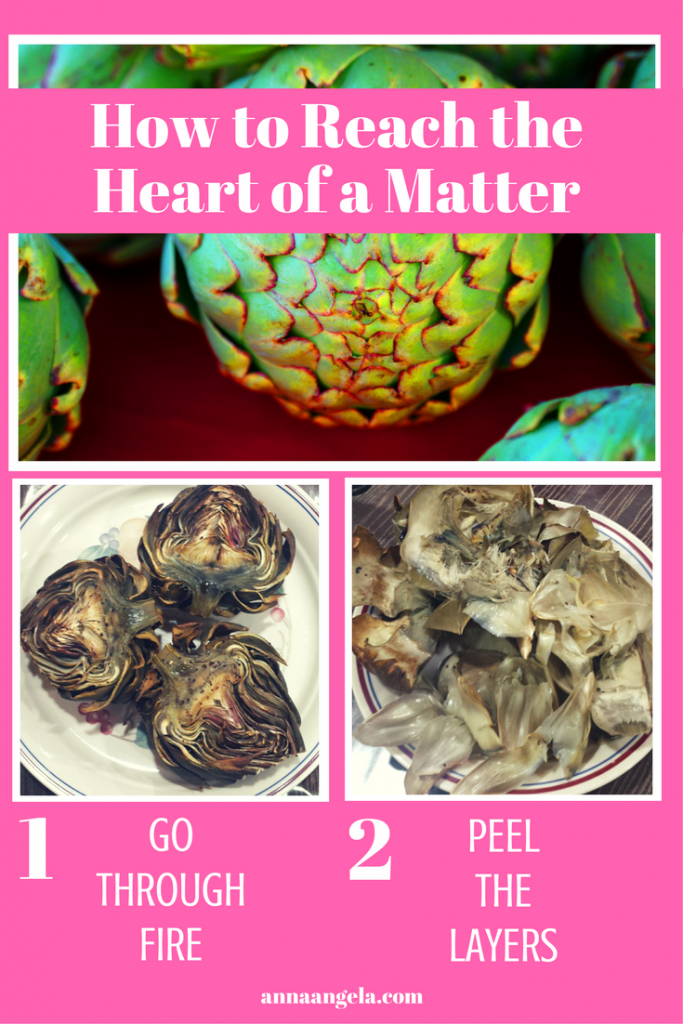 Whether we're reaching for the heart of the an artichoke or the heart of an issue, a problem, or a person, there are two steps we need to take. We need to go through fire and we need to peel the layers.
Go through fire
We usually think of fire as something that destroys. Literal or metaphorical, fire isn't something we want to go through. Yet, although fire does destroy, it also does some amazing things.
Fire purifies. If you want to get clear ice cubes, first boil the water before freezing it. Boiling (or double boiling) the water before freezing it dissolves air and decomposes minerals in the water. The air and minerals are what makes frozen ice look cloudy.
Fire creates. Diamonds are created with intense heat and pressure.
Fire promotes health. Farmers use prescribed burns on their fields to remove plants already growing and help plants that are about to grow. It improves the health of a field.
Fire prevents disasters. There's a huge empty field next to our church. Ever summer, thanks to California drought and heat, it catches on fire. The firefighters would intentionally burn parts of it – the parts closest to roads and buildings – to prevent wild fire. It's called a controlled burn.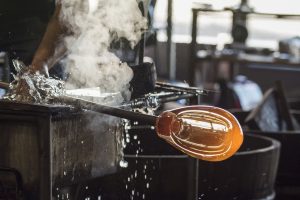 Here's my WARNING! bit. In high school, I had a project where I thought it would be cool to set a piece of paper on fire. I was in my room, lit a small piece of paper on fire, blew it out, and tossed it into my waste basket. Unfortunately, the fire wasn't completely out when I tossed it onto more pieces of paper inside my plastic waste basket. It was a mad rush to put out the flames, and my dad caught me after the fact. "Why didn't you do it outside?" he asked like it was the most logical thing to do because it was. I had no answers and chalked it up to teenage absentmindedness.
Absentmindedness and stupidity aren't restricted to an age. Respect fire and don't try to control it. Don't leave boiling water alone, don't try to make your own diamonds, and definitely do not prescribe/control burn your backyard. Because without proper training, fire will simply burn and consume.
Metaphorical fire will do the same without proper handling. The fires in our lives will burn and consume if we let them. The first step to getting to the heart of a matter is to go through fire, but to go through it properly. Here's how.
Make the Lord, your God. Isaiah 43:2-3b says,
"When you pass through the waters, I will be with you. When you cross rivers, you will not drown. When you walk through fire, you will not be burned. The flames will not hurt you. This is because I, the Lord, am your God. I, the Holy One of Israel, am your Savior."
With the Lord as our God and our Savior, we are not destroyed. We can get knocked down, but not out. How many stories in the Bible are there of people going through fire, but came out alive? Shadrach, Meshach, and Abednago were literally thrown into a fiery furnace, and came out alive! Trial after trial, we are shown how faith in God sustains and saves.
Have faith in God. Romans 5:1-5 says,
"We have been made right with God because of our faith. So we have peace with God through our Lord Jesus Christ. Through our faith, Christ has brought us into that blessing of God's grace that we now enjoy. And we are happy because of the hope we have of sharing God's glory. And we also have joy with our troubles because we know that these troubles produce patience. And patience produces character, and character produces hope. And this hope will never disappoint us, because God has poured out his love to fill our hearts. God gave us his love through the Holy Spirit, whom God has given to us."
When we go through the fire with God on our side, we are not consumed. The fire, intended to destroy, does amazing things instead. It purifies, creates, promotes health, and prevents disasters.
In the midst of it, though, that may not be obvious. When Moses faced the burning bush, he didn't realize just how much God would use him. When we face our own fires, and even when we realize that God can do something with those fires, we may not know just how much and how amazing God will move in our lives.
To reach to the heart of a matter – an issue, a problem, a person (it may be you!) – be willing to go through fire, and hold onto faith that God will bring you through it and into something amazing.