I shared a free goal tracker last June. I set a goal to write fiction for at least 15 minutes everyday in July. That did not happen. Now, I'm reevaluating that goal and pressing reset. I'm striking "everyday" from the goal. I'm just going to write fiction in 15 minute increments (at least). I think it's more doable for me.
The Bible also tells us to reevaluate and reset. Not in those words, but in the observance of the Sabbath. Most of us have heard of the Sabbath. Every week, we set aside a day or time to stop. To spend time with God. To reflect and rest.
Did you know about the Sabbath year? It caught me by surprise when I was reading the Book of Leviticus. Every seventh year, God commands the people to press the reset button. Okay, not really. Every seventh year is a resting period for agriculture. God commands the people to let the land lie fallow. No planting, pruning, or harvesting. Debts are also forgiven. Then, at the end, everyone gathers together and listens to the reading of the Torah (Genesis, Exodus, Leviticus, Numbers, and Deuteronomy).
But then, there's the year of Jubilee, the year after seven Sabbath years (the 50th year). Debts forgiven. Slaves set free. Properties revert back to the original owners. It's a time of freedom and celebration. Talk about the ultimate reset button!
I've been obsessed with the idea of a reset button for our lives. There are many ways I feel like I'm standing at a tipping point. I want to press reset on my life and start over. Start over with decisions I've made. Start over with how I do things. Start over with habits. Start over with relationships. But my idea of reset is more like how you can reset a game and start over with previous data lost.
Life doesn't work that way. Our past shapes our present and future. The only data lost when we press the spiritual reset button is when we repent and God forgives our sins. Our debt of sin is forgiven. We are set free from spiritual slavery. And we are blessed. God promises blessings when the Israelites obeyed the Sabbath and Jubilee years. We are also blessed as God's people. No matter how many challenges we face or how big our problems are, we still have the blessing of hope, peace, joy, victory in Christ, and so much more.
We are also blessed by following the Sabbath. God commands us to step back and rest because He knows we need it. God created us for a purpose. That means work is ingrained in us. We need to be doing something, but we also need rest. God set this example for us by resting on the seventh day after making all of creation. He turned rest into a law with the Sabbath and Jubilee years. He knows that when we step back, rest, reevaluate, and reset, we can move forward easier.
We can move forward without stress. We can move forward with hope (especially if we take the time to "read the Torah" or remember what God has done for us). We can move forward in faith.
I've talked about going through burnout before, which is why I think rest is important. I also think reset is important. To stop and see what we need to cut off from our lives, what we need to say no to, and what we need to do over.
That's why, as part of my 3rd year blogiversary, I'm doing two giveaways with items that will hopefully encourage you and help you rest and reset.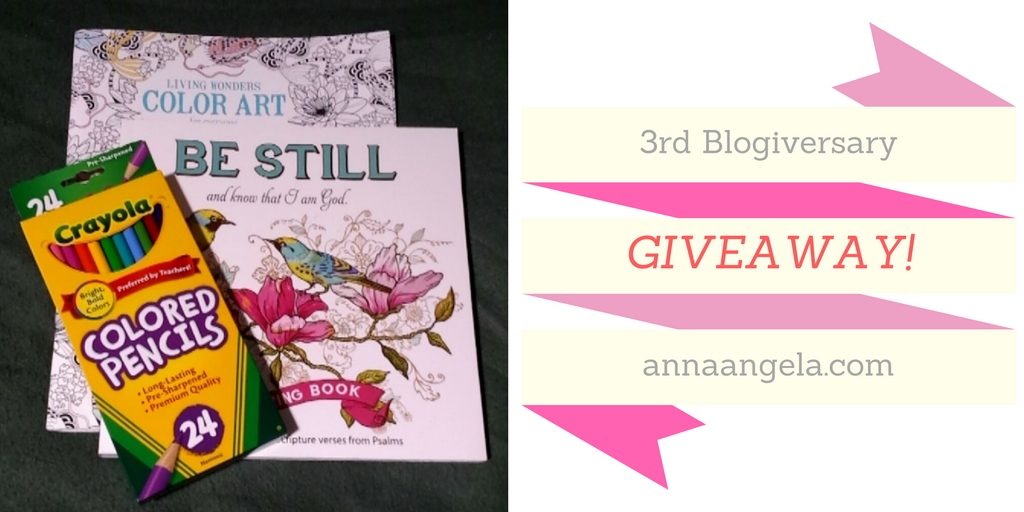 To enter my second giveaway, subscribe to the blog for free (see right sidebar, mobile users scroll down). You will be automatically entered. You will also get my 31-day devotional.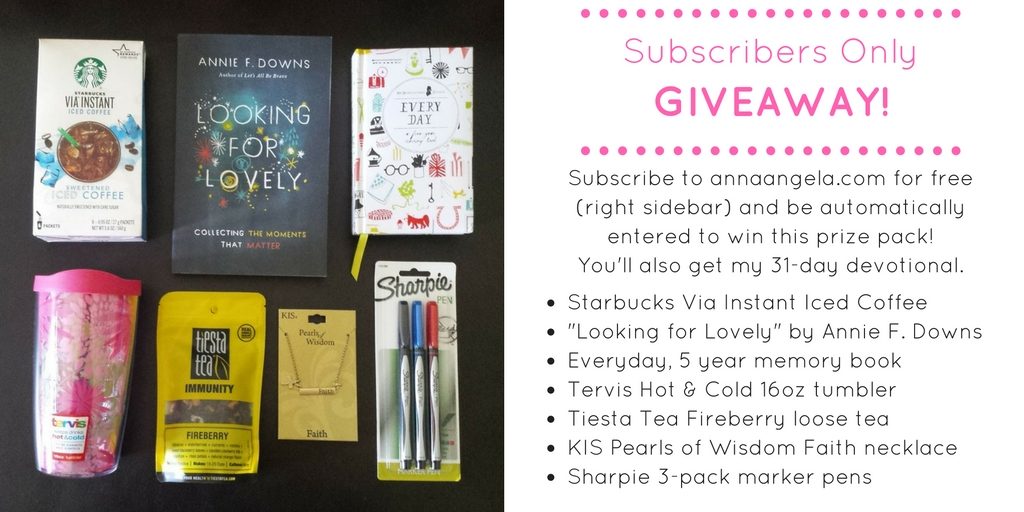 Legal speak for the Subscribers Only Giveaway:
Giveaway ends August 31, 2016 at 11:59 PM Pacific Time. Open to all participants 18 years of age or older (void in Quebec). If the winner resides outside of the US, he/she must correctly answer a skill question in order to redeem the prize. Prizes cannot be shipped to PO Boxes. Winner will be selected by Random.org and be notified by email. Winner will have 48 hours to respond before a new winner is selected. The product offered for the giveaway is free of charge, no purchase necessary. By providing your information through the Subscriber form and/or through email, you are providing your information to me and me alone. I do not share or sell information and will use any information only for the purpose of contacting the winner.
Linking up with Coffee for Your Heart with Holley Gerth.