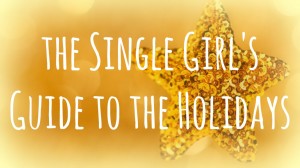 Imagine the heart of downtown lit up with millions of twinkling lights. A giant tree towers over everyone. Talented performers sing and dance on the stage. Animated exhibits entertain as they have always done for over 30 years. Music pours from speakers and you sing along as you walk through hundreds of Christmas trees, uniquely decorated by local groups, schools, scout troops, churches, and companies. Across the street, a Ferris wheel. On the other side, mini carnival rides filled with laughing kids. And everywhere smells like kettle corn, hot cocoa, and peppermint.
My family, friends, and I have made it a point to visit "Christmas in the Park" every year. It's a month long Christmas display. Despite the cold, crowds, traffic, and hooligans (sometimes), I enjoy it. It oozes Christmas and I love Christmas.
But sometimes, it's lonely. You know that feeling of being alone in a crowd? There's just so many families and couples everywhere. Holding hands, taking pictures, sharing hot cocoa, and making memories. It's easy to feel alone, and then believe that I am alone.
And that's the thing about being single in the holidays. The holidays are just geared for love and togetherness. And there's nothing wrong with that (unless it's the commercialism that exploit and distort true love and togetherness. End soapbox). And I'm not saying that single people don't or can't have love and togetherness. Not at all.
It's just that when you want the Lifetime movie romance…or the family portraits with matching outfits…or when you suddenly feel cold and you could only hold your own hands…. It's overwhelming to suddenly and constantly see everything you want and don't have. It's important then to examine our hearts.
This really goes for all of us, single or not. How many times have we heard (and said it ourselves) that people are missing the point of Christmas? Or Thanksgiving? Or even New Year or New Year's Eve. We get lost in the preparations, the parties, the gifts, and other hubbub. We lose focus. Instead of family, we focus on the turkey. Instead of celebrating the birth of Christ, we celebrate getting gifts. Instead of being thankful for a new year, we hone in on resolutions we can't keep.
And we single people can get lost and lose focus too. Instead of celebrating the love and togetherness we have in our own lives, we get lost in all the love and togetherness we see others have and we focus on our lack of it.
Isn't there a word for that? Something the 10 Commandments say not to do?
But really, who can blame us? Everything drives home the point that we shouldn't be single. Mistletoe, I'm calling you out! Even people who are just acquaintances suddenly think it's okay to set us up with their cousin or brother's best bud.
Let's go back to our hearts. Back to what matters most. Even if that means we have to consciously remind ourselves that we belong to God first. And I've done this, walking among those Christmas trees and seeing my couple friends walk off on their own, leaving me walking by myself (thanks, guys), I reminded myself, "I am my Beloved's, and my Beloved is mine."
Yes, Song of Solomon is this epic love poem between two human lovers. This is one of those moments when I would see it as many do, as a picture of Christ and His bride, us. Anything to remind myself that I have this ultimate epic love story. Someone died for me, you know. Someone was born for me. Someone prays for me, never leaves me, forgives me, and loves me.
Me. Loved. With a passion so deep, He resurrected from death so we could be together forever.
And I remind myself that God has a plan. That He can use me and my singleness.
My dear single friends, the first thing we've got to do to thrive (not merely survive) in the holidays is to examine our hearts. To remember who owns it. To remember that God loves you so very deeply. He never leaves you. He calls you by name. He knows you better than you know yourself, and He's setting you up for a grand purpose.
If you want to fall in love in the holidays, fall in love with the One who already loves you. Let the warmth of His love embrace you. Let His love be your focus and your celebration. And let His love allow you to see the love and togetherness already in your life. Let His love change the way you see love.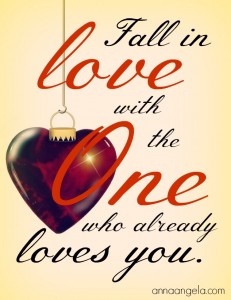 Linking up today with Coffee For Your Heart.