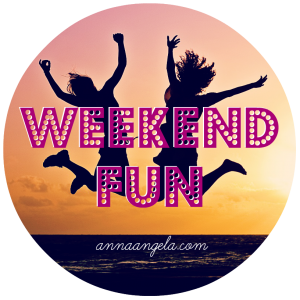 Did you catch my Summer Nights Bucketlist printable? It's free! I shared 10 ideas you can try this summer and one of them is to re-watch an old favorite TV series. Since regular programming takes its own summer vacation, it's a great time to fall in love all over again with your favorite TV characters. To help you out, here are some bingeable TV series. They're short, but great.
Bunheads (2012). I started with this one because I just started re-watching it. It has 1 season, 18 episodes, and stars Sutton Foster and a lot of very talented young dancers. It's about Michelle (Foster), a Vegas showgirl, who marries and moves into a small beach town and ends up working with her mother-in-law, who runs a ballet dance school. It has drama, lots of humor, flawed characters trying to do their best, and amazing dances.
Lost in Austen (2008). For you Austenites out there, I've mentioned this TV series before. It only has 4 episodes, but because it's like a really long movie they broke up for television. It's about a modern-times young woman, Amanda (played by Jemima Rooper), who discovers a panel in her bathroom that opens into the house of the Bennets. She ends up trading places with Elizabeth Bennet, and finds herself in the beginning of Pride and Prejudice. It's a hilarious twist on a classic Austen story that teaches us about family, love, society, and not judging characters by how the author wrote them.
Big Little Lies (2017). For a more recent binge watch, Big Little Lies is based on the book of the same title by Liane Moriarty. This is a 7-episode TV series released on HBO and for adults only for profanity and sex scenes, but it has great drama and characters. It's set in Monterey, California, and opens with a murder. It then dives into the lives of these mothers of first graders, which seem perfect but many secrets lie underneath. I finished it in two nights. If you like real, flawed characters and a murder mystery, then this is a good one. It stars Reese Witherspoon, Nicole Kidman and Shailene Woodley as the three main moms whose lives we dive into.
Aurora Teagarden Mysteries (2015-2017). Okay, this isn't a TV series. It's part of Hallmark's Movies & Mysteries made-for-TV movies, but it's my favorite. It's stars Candace Cameron Bure as Aurora Teagarden, a librarian and member of the Real Murders Club. Aurora keeps crossing paths with murders in her town, much to the dismay of her mom and local police. She has to investigate, of course, and we're along for twists, turns, and happy endings. It's Hallmark, after all. There are six Teagarden movies so far.
Who Do You Think You Are? (2010-2017). This TV series has 9 seasons and definitely not a short series, but I'm including it because you can pick and choose which episode to watch based on which celebrity family lineage you want to see. That's what I do. There are many great episodes and different celebrities exploring their history. There are definitely amazing stories of people who lived before us. Lies are exposed, truths uncovered, family lores debunked or confirmed, and families reunited. It'll make you sign up to Ancestry.com! I did, but for free family records, try FamilySearch.org.